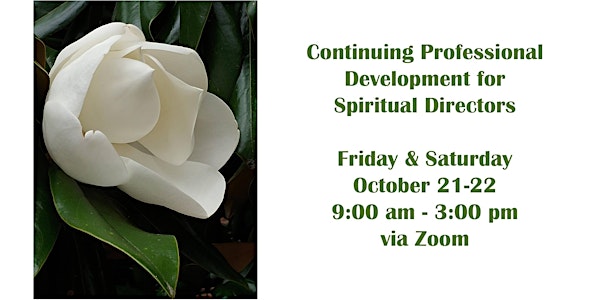 Continuing Professional Development for Spiritual Directors
Program includes Domestic Violence & Faith and Precious and Honored: Spiritual Direction with People Who Have Experienced Sexual Violence
Refund Policy
Contact the organizer to request a refund.
Eventbrite's fee is nonrefundable.
About this event
Many people seeking spiritual direction have faced intimate partner violence or sexual trauma. These experiences can impact their relationship with themselves and with the God of Their Understanding. Through lecture, discussion, demonstration and role play, participants will learn:
1. The dynamics of interpersonal violence and sexual assault
2. The neurobiology of trauma
3. Ways to recognize how a history of sexual violence may manifest itself within a directee
4. Implications for Spiritual Directors companioning a person who has experienced sexual abuse or assault
5. Appropriate attitudes for receiving the person and their experience
6. Prayerful approaches that may facilitate healing
This is a 2-day program via Zoom facilitated by Sister Carole Riley, CDP, Ph.D. CEUs have been requested for Social Workers, Nurses, and Licensed Professional Counselors
On Friday, October 21st, Laurie Thompsen with The West Virginia Coalition Against Domestic Violence will outline the dynamics of domestic violence, the impact on faith and relationships, along with helpful and effective responses.
On Saturday, October 22nd, Liz Deal, WVIS Associate Spiritual Director and Sister Carole Riley, CDP, Ph.D. will give spiritual directors background and resources for working with people who have experienced sexual abuse or sexual assault.
WHEN: This program meets on both Friday, October 21st and Saturday, October 22nd from 9:00 am - 3:00 pm (Eastern)
OFFERING: Once you register, you will be given the opportunity to pay by credit card or to send a check. The requested Donation for this program is $100 which includes all materials and your certificate of attendance. Please note that scholarships ARE available by emailing Sister Carole at wviscr@aol.com.
Eventbrite assesses a fee for processing all orders. If you are able to help us offset this fee, you are invited to add an additional donation as indicated to offset this cost. This is completely optional. You will be given the opportunity, if you desire, to donate by check. Directions for donating by check will be provided as you register.
WVIS Students - if you are an Intern in the WVIS Training Program, you are asked to register. However, this program is part of your tuition and you can enter $0 in the box for requested donation.
All participants will receive a confirmation of your registration from Eventbrite upon registering. You will receive the Zoom link prior to the start of the program. If you have questions about registration, please email wvisreg@gmail.com. If you have questions about the program, please email Liz Deal at lizjdeal@gmail.com.
Please note that WVIS is a nonprofit 501c3 organization and you can receive a document for tax purposes at the end of the year.