Description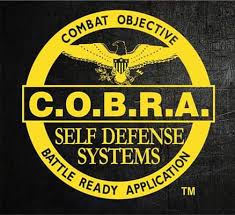 Join us and C.O.B.R.A. Self Defense for 4-hours of Continuing Education and Real Estate Safety.
THE REAL ESTATE INDUSTRY: A PERFECT OPPORTUNITY FOR A CRIMINAL
Unless you have sought out formal self-defense training, you will have no way of knowing how to defend yourself. Realizing that you lack in personal safety knowledge is a critical first step.
Understanding what you look like to a criminal is paramount. Real estate agents are the ultimate soft target (easy opportunity). Agents fall victim because it is literally "crime by appointment".
You can be called by anyone at any time and be requested to meet this person, generally alone and in an empty property.They know what you look like already, thanks to social media, and they can quickly find out a great deal about you in advance.
Learn real-world, effective self-defense techniques to protect yourself from an attacker. This is not sport training. These are techniques designed for real world people to learn easily to work effectively on real world attackers.
Empower Yourself. Empower Your Employees.
Who will be there for you? You will. Learn how to protect yourself.
Who will be there for your employees? Your employee will. Give your employees the empowerment to protect themselves.
About C.O.B.R.A.™ Self-Defense System Creator Chris Sutton
Chris' extensive martial arts training as well as his law enforcement experience dealing with real criminals have given him highly unique insights into the reality of self-defense. Chris has used this expertise to create the acclaimed C.O.B.R.A.™ reality-based self-defense system, as well as influencing his other martial arts programs, fitness programs & books.
Chris is a Joe Lewis Fighting Systems Black Belt and has trained in numerous Asian/ American Martial Art systems earning multiple ranks. After many years in the Asian arts Chris studied under Heavy weight World Champion Kick Boxer Jim Graden, with further influence from the legendary champion Joe Lewis in the Elite Kickboxing System earning another Black Belt.
---
*Payment will be accepted at the door only. This event is FREE for North Central and Delta MLS members. $50.00 for all other members and affiliates. We are unable to accept credit cards. Checks can be made out to UPR. Please do not send payment to UPR office.
*Please note that if cancellations are not received by UPR on or before April 9th, 2018 tuition for this event will be owed. Cancellations must be done through EventBrite.
*No Late Registrations will be accepted and No Walk-ins.
*If you register and do not attend, you will be charged.
9 a.m. – 10 a.m.-Check in and Continental Breakfast
10 a.m. - 10: 45 a.m. – Introduction/Orientation/Demonstration
BREAK 10:45 a.m. - 11:00 a.m.
11:00 a.m. – Noon – Real Estate Specific Self Defense Strategies
Noon-12:30 p.m. -General Membership Meeting
12:30 p.m. - 1:15 p.m. -Lunch & *Guest Speaker
1:15 p.m.-2:00 p.m. - Physical Techniques/Interactive Training
2:00 p.m. - 2:30 p.m.- Live Drills and Scenario Training
BREAK 2:30 p.m. - 2:45 p.m.
2:45 p.m.-3:15 p.m. - Every Day Weapons Seminar
3:15 p.m. - 3:30 p.m. - Vehicular Anti-Abduction
3:30 p.m. - 3:45 p.m. - Recap and Q/A
* Stacy Welling Haughey, Upper Peninsula Regional Coordinator of the Michigan Department of Natural Resources Customer Service Center will be joining us during lunch to speak about and provide information on easements (as it relates to state land) due to the recent challenges surfacing through local real estate transactions. Also presenting with Stacy will be Tom Seablom from the DNR Forest Resources Division.
Comfortable clothing is recommended!!