Content Matters: Create Meaningful Sites with Content Strategy
When and where
Location
18 Seaboard, Suite 100 27604
Refund Policy
Contact the organizer to request a refund.
Description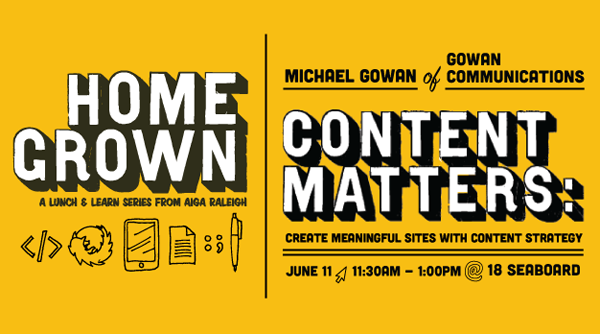 What's more important for a successful website: content or design?
It's a trick question, of course. In the end, content and design are inseparable in the user experience. And just as each design element should have a reason, the content that fills a site must also be created with a purpose.
Content strategy plans for the creation of content that meets the needs of your clients and site users. In the AIGA Homegrown Lunch & Learn session on June 11, Michael Gowan will discuss elements of content strategy, tips for creating meaningful content, and ways to plan for the life cycle of information on your sites.
Join us June 11 for our Homegrown on Content Matters with Michael Gowan.
Gowan Communications:
Michael Gowan is a content strategist, writer, and editor with more than 15 years of experience creating web content. He's developed content strategies for institutions including Duke University and UT Southwestern Medical Center. He's also a journalist who writes for Men's Journal, Macworld, and other sites.
Register soon as seating is limited.
Tanglewood Farms chicken salad with Perry Lowe Orchard apples, turnips, walnuts, and a bleu cheese vinaigrette
Moore Brothers' beef brisket and asparagus salad with pears, sweet potatoes, bacon, and bleu cheese dressing
Grilled meatloaf with goat cheese smashed red potatoes, spinach, and house-made Worcestershire Wood
Fire grilled Portobello mushroom with braised lentils, butternut squash, and roasted fennel
Shrimp and grits with spinach and champagne tarragon butter
---
Homegrown, a Lunch & Learn series from AIGA Raleigh
Things change fast in our industry, and it's important for us to grow our non-traditional design skills. This monthly lunch series brings local, "homegrown" experts together with designers for an intimate, indepth discussion of different skills or topics that will help designers add a few skills to their toolbox. Homegrown is your opportunity to have lunch with the smartest people in town.