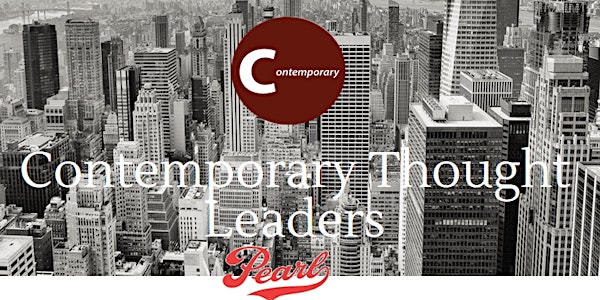 Contemporary Thought Leaders: A Civic Engagement Symposium
When and where
Location
Pearl Stable 307 Pearl Parkway San Antonio, TX 78215
Description
We are hosting a city-wide launch party event and civic engagement symposium in San Antonio to announce our presence and engage students in public affairs dialogue. Our event will feature a dynamic panel on education, civic engagement, and immigration.

Robert "Bob" Rivard is the founder and director of the Rivard Report, a nonprofit local news and information site that informs and connects engaged citizens in San Antonio. The Rivard Report celebrated its fifth year of publication in February and now has 12 fulltime employees and a growing number of freelance contributors. Robert is a longtime, award-winning journalist who served as editor of the San Antonio Express-News from 1997 to 2011, and previously worked for Newsweek as its Central America correspondent covering the region's civil wars in the 1980s and from 1985-89 as its global chief of correspondents. He is the author of Trail of Feathers: Searching for Philip True, a nonfiction book that chronicles the disappearance and murder of Express-News reporter Philip True in Mexico's Sierra Madre. Robert is married to Monika Maeckle, a writer, naturalist, and communications consultant. They have two sons, Nicolas, a designer and inner city developer, and Alexander, a teacher.
Marisa B. Perez-Diaz, the District 3 State Board of Education member, was born and raised in San Antonio. She is a product of the Texas public school system and is a passionate advocate for equitable education for all students. Perez-Diaz, a Democrat, was elected to the State Board of Education in November 2012 and is the youngest Latina, nationally, to have been elected to serve on a State Board of Education. She is now serving her second term. Perez-Diaz served on the Committee on Instruction from January 2013 to December 2016. Since January 2017, she has served as vice chair of the Committee on School Initiatives. Perez-Diaz is married to Rafael Diaz, Jr. The Diazs have one child, Catalina Yaretzi, and will be welcoming their second child in July 2017.
H. Drew Galloway is the Executive Director of MOVE San Antonio, a nonprofit organization innovating democracy for the next generation of community leaders. In addition to over a decade of private sector project management experience, he has worked at The Annette Strauss Institute for Civic Life, the White House, San Antonio City Council, and Bexar County Commissioners Court. He earned a degree in Public Administration, Legal Studies, and Leadership Honors from The University of Texas at San Antonio. In his free time, Drew can be found listening to synapse-rattling electronic music, hiking Texas' hills with his family, and ensuring all cats in his immediate vicinity are well-petted.
Juany Torres is the proud daughter of Mexican immigrant parents. As a first generation American, she was born and raised in the south side of San Antonio, Texas. She attended Stanford University on a full scholarship by the Bill and Melinda Gates Foundation and worked in the Obama White House as part of the Domestic Policy Council. After graduation, Juany persued her passion for helping underrepresented communities by serving as the Hispanic Googler Network's Community Engagement Lead and leveraging Google's resources to narrow the digital divide in San Francisco. Last year, she served as the Deputy Digital Director for Nevada on the Hillary Clinton Presidential Campaign. Juany is now back in San Antonio focusing on increasing civic engagement through Organize SA, an organization she founded that hosted the largest voter deputization class in Bexar county's history.
Jason Stanford is a leading Democratic opposition research consultant, author, and a nationally syndicated columnist who currently works as the communications director for the mayor of Austin, Steve Adler. As a political consultant, he has worked on more than 200 campaigns in 45 states. His clients have included 31 Members of Congress, three Governors, Fortune 500 corporations, the AFLCIO, and the National Abortion Rights Action League, and many others. Jason was named a Rising Star by Campaigns & Elections magazine in 2002 and was singled out by the Dallas Morning News for managing the Democratic campaign for Governor that exceeded expectations against Rick Perry in 2006. Jason is the co-author of Adios Mofo: Why Rick Perry Will Make America MIss George W. Bush with James Moore.
George Rodriguez was born in Laredo, TX and raised in San Antonio. He served in both the Reagan and the Bush I administrations where he worked in Justice Department, HUD, and the White House. He is an outspoken conservative who serves as president of South Texas Alliance and south Texas coordinator for the national Tea Party Patriots. George graduated with a degree in Political Science from Brigham Young University, and has a certificate from Harvard's Kennedy School. He writes on "El Conservador", "Texas Watchdog Wire", and a weekly opinion for several south Texas newspapers.
For more information, please contact Zabdi Salazar at 512-299-7294 or business@thecontemporarygroup.com
Please follow us on Facebook @thecontemporarygroup and subscribe to our weekly newsletter at thecontemporarygroup.com