Description
The intent of updating the nutrition labeling criteria of foods is to reduce risk factors associated with obesity and other noncommunicable diseases. These criteria reflect the most recent consensus on foods and dietary patterns that may improve health outcomes of Americans. The most challenging requirements within these criteria include added sugar, trans fatty acids and sodium. These criteria are often shrouded in scientific controversy and intensify consumer concerns and demands, such as GMO labeling, natural ingredients, healthy choices, "free" claims, "clean" labeling movement and food processing. The fundamentals of nutrition labeling specifications will be discussed and the implications of the labeling distractors will be deliberated.
Thank You to Our Sponsors:
Casey Ingredients & Strategic Foods Group's support allows this Lunch'n Learn to happen. Proceeds from Lunch Sponsorship go directly our AlamoIFt's Scholarship fund! Learn More.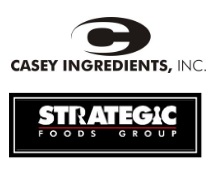 Date and Time
Location
C.H. Guenther & Son - Use North parking lot
2201 Broadway St
San Antonio, TX 78215