Description
Le 28 juin prochain, Contact MTL invite ses ambassadeurs à découvrir le travail visionnaire du professeur montréalais Yoshua Bengio, sommité mondiale de la recherche en intelligence artificielle. Joignez-vous à nous!
«

Il y a des décisions qui ne peuvent pas seulement se prendre dans la communauté scientifique, des décisions qui doivent se prendre collectivement.

»

-Yoshua Bengio à La Sphère
À PROPOS DU PROFESSEUR BENGIO
L'ambition du professeur Yoshua Bengio est de comprendre les mécanismes mathématiques et computationnels qui permettent à l'intelligence d'éclore. Il est convaincu que cela se fait à travers l'apprentissage par l'exemple. Cela nous permet de mieux comprendre l'intelligence des humains ou des animaux mais aussi de construire des machines plus intelligentes, qui comprennent le monde qui nous entoure et peuvent en conséquence y prendre des décisions et nous rendre des services. Les progrès en intelligence artificielle vont probablement complètement transformer la société, au moins autant que l'a fait la révolution industrielle. Comprendre notre propre intelligence est aussi important à cause de la satisfaction que cela apporte de mieux nous comprendre nous-mêmes. Yoshua Bengio est un des fondateurs des recherches dans le domaine de l'apprentissage profond, qui est actuellement au coeur des développements technologiques et scientifiques de l'intelligence artificielle, qui profitent aussi de la puissance de calcul et de la quantité de données accrues qui sont maintenant disponibles.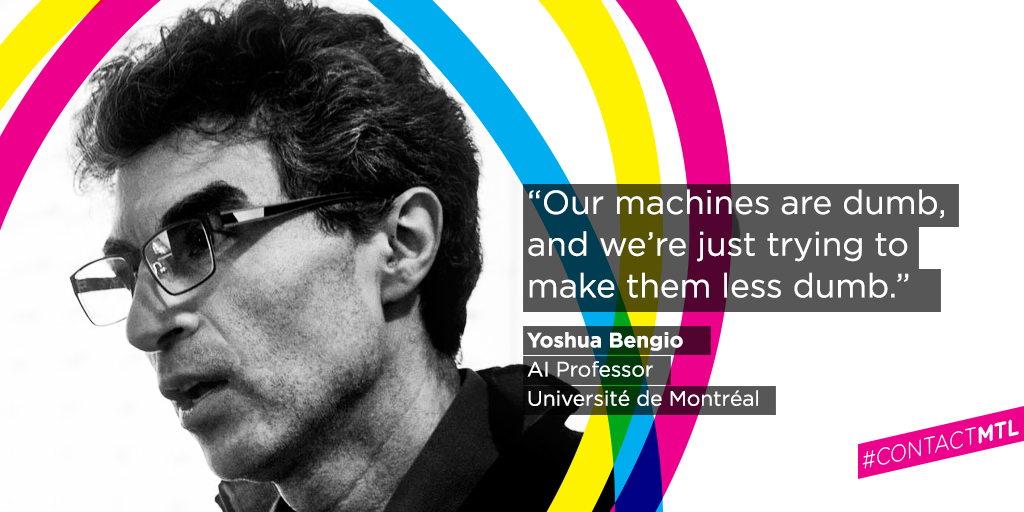 //// ENGLISH
"

Y

oshua Bengio leads one of the world's preeminent research groups developing a powerful AI technique known as Deep Learning." - MIT Technology Review
Contact MTL invites its ambassadors to discover the visionary work of Montréal professor Yoshua Bengio. Join us at Notman House on June 28!
ABOUT PROFESSOR BENGIO
Yoshua Bengio is Full Professor of the Department of Computer Science and Operations Research, head of the Machine Learning Laboratory (MILA), CIFAR Program co-director of the CIFAR Neural Computation and Adaptive Perception program, Canada Research Chair in Statistical Learning Algorithms, and he also holds the NSERC-Ubisoft industrial chair. His main research ambition is to understand principles of learning that yield intelligence. He teaches a graduate course in Machine Learning (IFT6266) and supervises a large group of graduate students and post-docs. His research is widely cited (over 40000 citations found by Google Scholar in June 2016, with an H-index over 80, and rising fast)

He was Program Chair for NIPS '2008 and General Chair for NIPS '2009 (NIPS is the flagship conference in the areas of learning algorithms and neural computation). Since 1999, he has been co-organizing the Learning Workshop with Yann Le Cun, with whom he has also created the International Conference on Representation Learning (ICLR). He has also organized or co-organized numerous other events, such as the ICML'2012 Representation Learning Workshop, the NIPS'2011 Deep Learning and Unsupervised Feature Learning Workshop, the NIPS'2010 Deep Learning and Unsupervised Feature Learning Workshop, the ICML'2009 Workshop on Learning Feature Hierarchies and the NIPS'2007 Deep Learning Workshop.
//// PARTENAIRES / PARTNERS