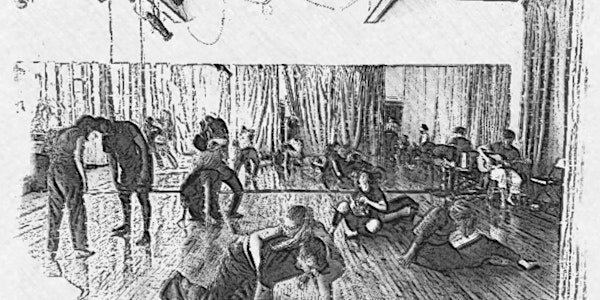 Contact Improv Workshop – Let's Play
Location
Bill Young's Studio
100 Grand Street
New York, NY 10013
Contact Improv Workshop + Jam 1:30-4:30 pm on May 22 | Hosted by Gabrielle Revlock and Funda Gul | Music by Richard Webb
About this event
During our workshop, we will honor a dynamic range of improvised movements. We will fly and fall, in and out of contact, forward, backward, slow, fast, right side up and upside down. As we begin to explore what it is to negotiate a dance with a partner, we will practice giving and taking weight and using the ground plus our own structure to support ourselves and each other. This class will be focused on contact improv fundamentals (plus some fun stuff). Following the 90-minute class, we will move into an additional 90 minutes of open dancing. Come to learn, play, watch, trust, support, explore, connect and grow. Beginner friendly. All are welcome. Tell a friend, bring a friend.
Please note also that the workshop is limited to 20 participants. Proof of full vaccination is required.
Event fees- Sliding Scale $15-$35 for 90 mins Workshop + 90 mins Jam. Suggested $20.
Knee pads are highly recommended.
Location: Bill young's Studio 100 Grand St. New York, NY
Please DO NOT attend, if you have any symptoms or if you have been exposed to someone with COVID within 5 days of the event.
We also have a few free spots available for people in the CI world who ever felt excluded due to race, gender identity, sexual orientation, age, physical ability, language, immigration status, or in any other way. With your great support, we are hoping to create a space where everyone feels belonged, are seen and supported.
We are looking forward to our dance!
Getting to know the facilitators.
Gabrielle Revlock is a choreographer, performer, improviser, somatics educator and creator of Restorative Contact, a mindful touch-based movement practice, in-part inspired by her 20+ years as a practitioner of CI. In her choreographic work she depicts complicated but relatable interpersonal relationships, developed through meticulous character study and improvisational structures. For these she has been honored with a Bessie Award, Rocky Award and was a finalist at The Award Show: Philadelphia. In 2019 she was a Target Margin Institute Fellow and in 2018 she was named 'Newcomer of the Year' by the performance journal Tanz. Her work has been presented in Philly by Philadelphia Dance Projects, FringeArts and the Annenberg Center for the Performing Arts, as well as across the USA and internationally in Japan, Netherlands, Singapore, Hungary, Russia and India. Revlock was a presenter at the 2020 Embodiment Conference, 2020 Dance & Somatics Conference and 2021 Future of CI Conference. For 2022 she will be an invited facilitator at the 50th Anniversary of Contact Improvisation as well as a contributor to a book of essays on the subject edited by Ann Cooper Albright. Revlock teaches CI for Movement Research and was a facilitator of the Brooklyn Contact Jam (currently on hiatus.) As a dancer, she has performed for Lucinda Childs, jumatatu m. poe, Susan Rethorst, Leah Stein, David Gordon, Christopher Williams, Vicky Shick, Bill Young and Jane Comfort. More at GabrielleRevlock.com
Funda Gul has studied various movement disciplines beginning with Aikido in 2005 eventually earning her Black Belt. In her movement journey, Funda became a certified instructor-in-training in Systema and completed 500-hour teacher training in Krishnamacharya lineage of Yoga. Funda has also been studying and teaching Contact Improvisation, and facilitating jams since 2016. Her training in Yoga and Martial Arts allows her to easily individualize the practice at hand according to students' needs and abilities. This approach helps Funda create an all-inclusive space for practicing movement. Also, her main inspiration for movement follows the idea of "Function creates the form," the idea that she has discovered during her martial arts and yoga training. Funda has hosted Contact Improv workshops with experienced dancers such as Cecilia Fontanesi, Elise Knudson, Hazal Kaya, and Bill Young and co-facilitated seasonal jams including Spring jam at Earthdance and March Jam at the Field Center. She is currently planning a May workshop with Gabrielle Revlock in Boston. In addition to being a talented mover, Funda also holds a Ph.D. in Mathematics from Stevens Institute of Technology.
Richard Harlen Webb began his music life playing classical and folk styles of guitar from the age of 8 years old, playing at a young age with intuitive methods and learning by ear. As years went along investigations and sonic rituals became common place in a life of musics from all around the world including Indonesian Gamelan, underground punk, Eastern European folk & ambient soundscapes, among many genres of interest. "The style of music I am playing has never been as important as the atmosphere of that music, of the way it makes one feel and allows for the freedom to explore the realms of the unseen." Richard has performed and collaborated with many extraordinary musicians including cellist Brent Arnold, violinist Carey Lamprecht, electronic musician Mari Matsutoya and singer/songwriter Alexandra Duvekot. In 2009 he released his first recording, a split album with composer Jherek Bischoff titled "Under the Sour Trees". From 2009 to present he helped form the group "Lullabies for Falling Empires" along with Carlos Esparza, Lillian Sullam & Brent Arnold which is still active and based in NYC. He has worked on spontaneous and composed music for performance and dance for many years creating atmospheres that both reflect the movement and are created from the movements of dancers and performers. Lullabiesforfallingempires.com