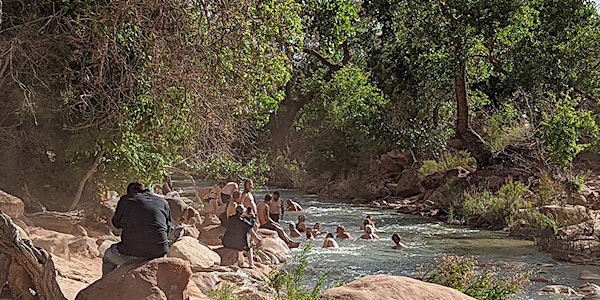 Contact at The Canyons Stargazing Adventure in Bryce and Zion Canyons
The 4th Annual Sean Kacan memorial Contact at The Canyons See the Stars at Bryce Canyon, Explore Zion, and Learn the Wim Hof Method
Date and time
Thu, Aug 1, 2024 7:00 PM - Mon, Aug 5, 2024 10:00 AM MDT
Location
Duck Creek Village movie ranch road Duck Creek Village, UT 84762
Refund Policy
Contact the organizer to request a refund.
Eventbrite's fee is nonrefundable.
About this event
3 days 15 hours

Mobile eTicket
For the past four years, Grimerica has hosted what has come to be known as Contact at the Cabin, or CaC.
It's a meetup of presenters and fans mingling ideas and strategies about various topics and ancient fables over the course of a long weekend. A tradition that has come to be described by attendees as "life-changing". Contact at the Canyons returns in 2024 as we descend on Duck Creek Village, Utah for a fourth time to continue exploring Bryce and Zion Canyons under the cover of dark with David W Mathisen and Brandon Powell, this time with summer weather.
All inclusive (food, transport, lodging, tour fees, park entrance fees, included – ALCOHOL NOT INCLUDED - optional atv rental extra)
Schedule
August 1 2024
19:30 MEET & GREET
20:15 DINNER
21:00 OPENING REMARKS
22:00 MINGLE AND BONFIRE
August 2 2024
FRIDAY: BRYCE CANYON
08:30 BREATHWORK and COLD PLUNGES (BRANDON)
09:30 BREAKFAST
10:30 STAR PRESENTATION 2 (DAVE)
12:00 LUNCH
13:30 LOAD VANS TO BRYCE
14:30 ARRIVE AT SUNSET POINT
HIKE RIM TO SUNRISE POINT
HIKE DOWN QUEEN'S GARDEN
HIKE BACK UP TO SUNSET
18:00 LOAD VANS TO YOVIMPA POINT
19:15 DINNER AT YOVIMPA POINT
20:15 STAR MYTH TOUR 2: BRYCE
23:00 LOAD VANS TO RETURN TO CABINS
August 3 2024 FLEX DAY
05:00 MEET TO GO SEE STARS AT THE LAKE
05:15 STAR MYTH TOUR 3: MORNING STARS
08:30 BREATHWORK and COLD PLUNGES (BRANDON)
09:30 BREAKFAST
10:30 FLEX ACTIVITIES:
DARREN & BRANDON SIDE-BY-SIDES
DAVE & GRAHAM HIKES (ZION)
RUSS & KYLE SIDE-BY-SIDES
OR STAY AROUND THE CABINS
OR DO YOUR OWN THING
LUNCH AT CABIN OR TAKE SACK LUNCH
19:00 DINNER BACK AT THE CABINS
20:30 BRANDON THOMAS PRESENTATION
August 4 2024
08:30 BREATHWORK and COLD PLUNGES (BRANDON)
09:30 BREAKFAST
11:00 LOAD VANS FOR ZION
12:00 PETROGLYPHS
13:00 SACK LUNCHES AT PETROGLYPHS
14:00 DRIVE TO CANYON OVERLOOK
16:30 LOAD VANS TO ZION CANYON FLOOR
17:00 VIRGIN RIVER PLUNGE
18:45 LOAD VANS FOR RETURN
19:00 DRIVE BACK TO CABINS
20:00 DINNER BACK AT THE CABINS
21:30 CLOSING REMARKS
22:00 CLOSING PARTY
August 5 2024
09:00 Breakfast
10:30 Checkout – shuttles to airport
Brandon is a professional Brazilian Jiu Jitsu, Self Defense, and Functional Fitness coach. He owns and operates a dojo in Charlotte, NC. Brandon became certified in the Wim Hof Method with the first group of U.S. instructors learning directly from Wim. "The Wim Hof Method had a tremendous impact on my life. The empowering results helped me realize that so many people can benefit from this practice. I took advantage of the opportunity presented by Wim and the Innerfire team to become an instructor. Its an honor to help Wim teach his method and message of health, happiness, strength, and love!" Brandon teaches seminars and classes on the Wim Hof Method at his dojo and abroad.
David W. Mathisen investigates the evidence that the world's ancient myths, scriptures, and sacred stories are speaking a language of celestial metaphor which is based on the heavenly cycles of the sun, the moon, the visible planets, and the stars and constellations. He is the author of six books exploring this language and these connections, including the multi-volume series Star Myths of the World, and how to interpret them, as well as Astrotheology for Life and The Undying Stars. He also publishes a blog, videos, and other material at www.starmythworld.com. David Mathisen graduated from the US Military Academy at West Point and has a masters degree in literature from Texas A&M University. He has taught in the Department of English and Philosophy at West Point and has had a love of the ancient myths and the stars in our night sky since he was a young child.
Whats Included?
This year at our Contact at The Cabin 2024 event we will be offering all meals snacks to get everyone through the stay (please contact us with dietary requirements) as well as transportation from Las Vegas International Airport to the venue in Duck Creek. We will provide transportation to and from the parks for stargazing as well as back to Las Vegas International Airport. All park entrance fees included.
There will be multiple myth retellings by David as well as two nights of stargazing in the parks with optional early morning trips available by signup. By day we will also be treated to Wim Hoff training by our friend Brandon Powell which will include some cold training with ice pools as well as the breathe work.
Accommodations
We are located in Duck Creek Village. Aunt Sues Chalet, our local Restaurant is next door. There is a small convenience store and gas station. Two Fabulous Gift Shops are within walking distance. From our door, you can ATV or Snowmobile. Mountain Biking is also Big. Best most Scenic Trails in all the World, in my opinion.
Walk to beautiful Aspen Mirror Lake and Duck Creek. Just 2 miles down the road is the Duck Pond. Catch trout, watch the Osprey, Hike, or just relax! Navajo Lake is just 3.5 mi from the Lodge. It offers GREAT fishing, Boating, Swimming, Hiking, etc.