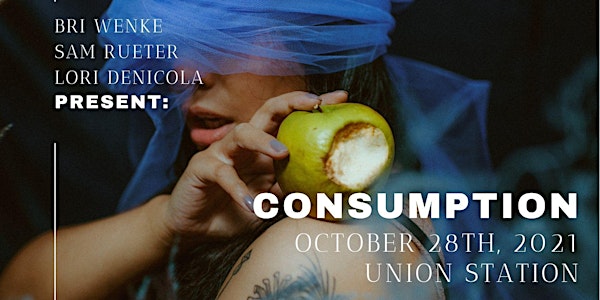 CONSUMPTION
IMMERSIVE ART EXHIBITION "CONSUMPTION" ONE-DAY-ONLY EVENT IN DOWNTOWN CHARLESTON
When and where
Location
Charleston Union Station 652A King Street Charleston, SC 29403
About this event
SEPTEMBER 28TH, 2021 - CHARLESTON, SOUTH CAROLINA
Local Charleston Artists, Sam Rueter and Bri Wenke, announce the date of their one-day-only, multi-sensory art exhibition CONSUMPTION on October 28th, 2021 from 6:00pm to 10:00 p.m. The event will be held at Charleston Union Station at 652A King Street, Charleston, South Carolina 29403. The event is free and open to the public. All attendees are asked to register for time slots through Eventbrite. Attendees must be 18 years or older.
CONSUMPTION will encapsulate the 2000 square foot space of Union Station and create an immersive experience exploring the overindulgence and addictive culture of humans and how it affects the natural earth. Rueter and Wenke, along with Lori Denicola of Petaloso, will transform the space into an incredible interactive experience featuring original art, surround sound, and live installation experiences for all guests to explore their message of consumable consciousness. The exhibition will feature never-before-seen work from Rueter and Wenke that will only be on display for one day only.
"We are curating every inch of this experience, from the guided visuals, to the soundscape," said Sam Rueter. "We sought out the hands of the most talented and dedicated individuals of our local community to formulate the experience.
Interact, play, take away, leave behind."
Guests will explore the exhibition following proper Covid-19 protocols and masks are encouraged. Original artwork, as well as prints, will be available for purchase.
STATEMENT
We are not created to consume.
Where there is consumption, there is disconnect. There is ruin. There is chaos.
Where there is consumption, there can be no curiosity.
Without curiosity, creativity is dead.
Without creativity, our world cannot sustain.
Consuming is not the essence of who we are.
Our addictive culture allows us to forfeit our power, to substitute the vulnerability of creation for passivity.
Our ancestors were not consumers.
Their mere existence depended on the constant flow of problem solving and innovation. They built fire in an ice age, with creativity as their life force. As human beings, creating is an integral part of who we are.
The choice is one we make again and again.
What's beneath the sugar-coated surface of our consumption?
THANK YOU TO OUR SPONSORS FOR MAKING THIS SHOW POSSIBLE:
MARILYN'S SECRET
Anonymous social networking community designed for women, by a woman, to help uplift and support all women in all communities around the world.
www.marilynssecret.org
THE FRENCH ECLECTIC
Event Rental Company & Design Studio.
www.thefrencheclectic.com