Description
This is a 4 session course.
April 24, 25, 26 & 27 6-9pm
What's in your food? Find out using DNA-based technologies. For the first time in history, the average consumer has access to this powerful technology.
In this hands-on lab class you will learn how to extract DNA from food using techniques such as DNA barcoding and PCR to determine if that goat cheese is really from goats, what's really in a McDonalds' Filet-O-Fish, and if that granola you had for breakfast is really non-GMO. We'll also give you instructions on how to set up a home testing lab. No previous science experience needed! This class is all about empowering consumers to investigate what they eat.
Instructor: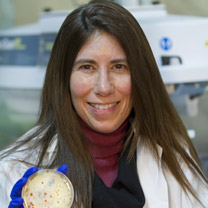 Ellen Jorgensen is a Genspace co-founder. She has a Ph.D. in molecular and cell biology from New York University. A published scientific researcher, she spent most of her career in the biotech industry before becoming an educator and advocate of citizen science. In 2011 she initiated Genspace's award-winning curriculum of informal science education for adults. Her two mainstage TED talks have received over two million views.Ellen is a scientific advisor to the School of Visual Arts NatLab, and adjunct faculty at The Cooper Union. She was recently inducted into FastCompany's Most Creative People in Business community.