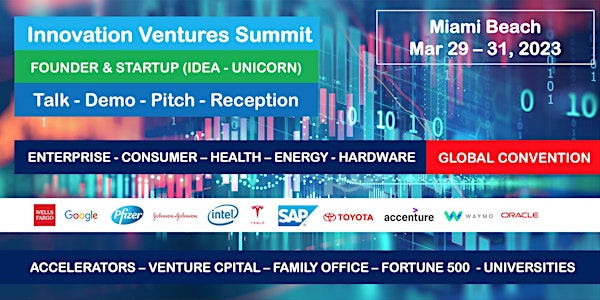 Consumer and Travel Ventures Summit
Global Innovation and Ventures Investing Conference with Trade Shows
By OneTraction Impact Ventures
Location
Fontainebleau - Private Suite (see check-in email) 4441 Collins Avenue Miami Beach, FL 33140
About this event
Focus: Digital, Scientific and Hardware Innovation from idea to commercial and growth stage in any consumer sub-sector powering the current global economy of $100 Trillion.
Audience: We expect over 2,000 decision makers at C suite level, comprised of Startup across stages through Unicorns / Post IPO, Top Universities Scientists, Global Fortune 500 Companies Executive, Serial Entrepreneurs, HNWI investors, Family Office, Venture Capital and Endowments with a combined $500 Billion+ Funds.
Speakers: Fortune 500 Leaders, Growth to Exit Stage Startup Founders, Venture Capital and prominent Expert from the most Innovative Institution in the world.
Agenda: Thought Leadership, QA Sessions, Pitching, Demo, Expo and Networking with VIP Reception. Across industries (Enterprise, Consumer, Health, Energy and Hardware).
Day I: 8:30am - 6:30pm Emerging Tech Innovation
Day II: 9am - 5:30pm Ventures Funding and Investing - 6pm - 9:30pm VIP* Reception
Day III: 10am - 4pm Go-to-Market and Demo/Expo**
Dress Code: Business Attire, no beach dress.
Food / Beverage: Included for Full Conference Pass holders on Day I - Day III
Registration: Strictly for our Startup, Investor and Corporate Members at Level I and above (1 ticket per member excluding VIP and Demo pass). Non Member: Sign up here upon your ticket purchase: OneTraction.com / Exchange /
Sponsors Package: Contact us from below for custom request, or get standard VIP pass from this page
Media: By Invitation, contact us using your business email
Past Events: We hosted over 100 conferences (View List)
Organizer: OneTraction Impact Ventures
Featured Video from Past Conference at Stanford - SF Fairmont Hotel - Global.
Featured Invited Panel Speakers. OneTraction.com / Exchange / Sign up
About the organizer
OneTraction Ventures:sponsored over 100 Global Events with leading Corporations, Universities, Venture Capital and Law Firm, we are an Impact Ventures investing and supporting startup, along investors, Corporate and Academic partners who are fully dedicated into solving the worlds pressing challenges, and primarily offer product or services that benefit positively both the end users and our environment with zero negative impact. Visit our site: OneTraction.vc or past events here: https://www.eventbrite.com/o/onetraction-ventures-7052835663