An invitation to co-create a culture change fund for equity.
About this event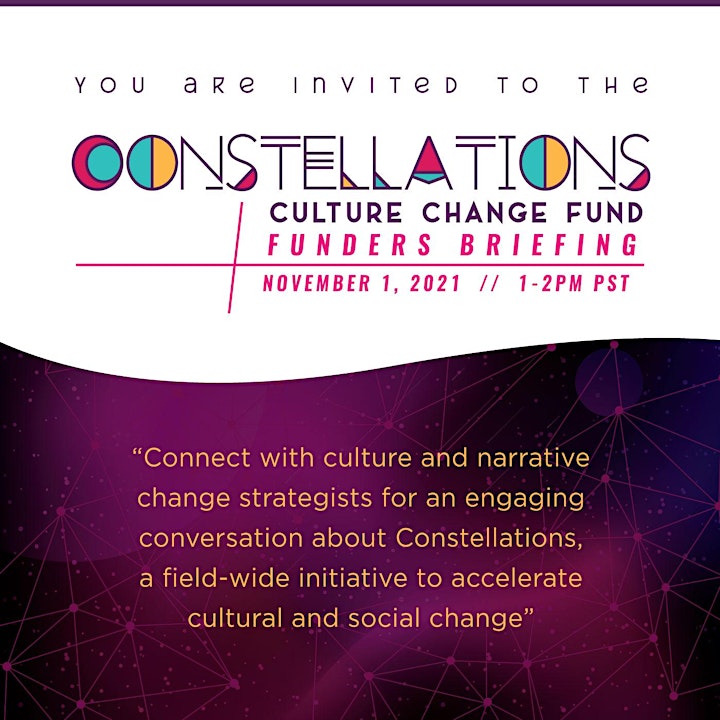 Join us as we unveil exciting updates to close our first round of the Constellations Culture Change Fund, a grassroots, practitioner-led $23 million dollar, three-year fund at the intersection of arts, culture, and social justice. The Constellations Culture Change Fund invests directly in BIPOC artists, culture makers, and communities most impacted by systemic racism.
We asked ourselves, how can culture be a powerful force in addressing systemic inequity and racism across our nation? How can BIPOC artists and culture makers advance narrative change that seeds abundance and collaboration? These questions inspired us to create the Constellations Culture Change Fund to invest in the growth, connectivity and accelerated development of the cultural change ecosystem.
With $10 million of the $23 million goal raised, this briefing is an opportunity for funders and other leaders in the field to participate and learn from a values-aligned cultural investment strategy rooted in grassroots communities.
Featured Speakers:

Sonya Childress (She/Her) - Senior Fellow, Perspective Fund
Sonya Childress is a veteran cultural strategist, film impact producer and writer who believes in the catalytic power of film and the arts to bolster social justice movements. Sonya currently serves as Senior Fellow with the Perspective Fund, a philanthropic resource for documentary film and impact campaigns, where she conducts field-building research, writing and initiatives that move the documentary field towards equity, transparency and impact. She is a frequent speaker, trainer and writer through her consulting arm, Pa'lante Strategies. www.sonyachildress.com
Lane Harwell (They/He) - Program Officer, Creativity and Free Expression, the Ford Foundation
Lane Harwell is a Program Officer on the Creativity and Free Expression team at the Ford Foundation, focused on the role of arts and culture in shaping fair and just societies. Lane joined the foundation in 2018, after serving as the founding Executive Director of the service organization Dance/NYC. Prior to Dance/NYC, they held the senior development role at the arts-wide advocacy group Alliance for the Arts. Lane's early history includes a performance career with the American Ballet Theatre Studio Company and training at the Bolshoi Academy, School of American Ballet, and San Francisco Ballet. Lane is an appointee to New York City's Cultural Affairs Advisory Commission, the Arts Committee to the Panel on Educational Policy, and a New York State Blue Ribbon Commission. Lane has an MBA from Columbia Business School, an MA in Performance Studies from the University of California at Berkeley, and a BA in Philosophy from Princeton University.
Tish Jones (She/Her): Founder & Executive Director, TruArtSpeaks
Founder & Executive Director of TruArtSpeaks - an arts & culture nonprofit based in Saint Paul, MN - Tish Jones is a poet, educator, cultural strategist, and cultural producer from Saint Paul, Minnesota. She has performed poetry in venues throughout the United States. Her work can be found in A Moment of Silence (Tru Ruts and The Playwrights Center, 2020), the Minnesota Humanities Center's anthology entitled, Blues Vision: African American Writing from Minnesota (Minnesota Historical Society Press, 2015), and more.
Currently a Metropolitan Regional Arts Council Next Step Fund and Waterers Future Building recipient, she has been awarded fellowships from the Arts Matters Foundation, Springboard for the Arts, the Intercultural Leadership Institute, and more. Her work explores the ways in which art can function as a tool for social transformation, liberation and education. For more on her personal praxis, see Jones' TEDxMinneapolis Talk on Spoken Word as a Radical Practice of Freedom.

Tynesha McHarris (She/Her)- Co-founder of Black Feminist Fund, Principal of Black Harvest
Tynesha McHarris is a Black Feminist from the U.S that engages her work fueled by the desire to see the ideals of truth and justice actualized in the lives and conditions of every person she encounters. She brings over fifteen years of experience advocating for racial, gender, and youth justice in social movements, organizations, and philanthropic institutions. In her work inside of movements, Tynesha has worked to mobilize resources to black liberation organizations and ecosystems. Currently, Tynesha is the Principal at Black Harvest, a Black feminist consulting firm partnering with social movement leaders, donors of wealth and institutional philanthropy to bolster work advancing racial, gender and youth justice.
Favianna Rodriguez (She/Her) - Co-founder, and President, Center for Cultural Power
Favianna Rodriguez is the co-founder and president of The Center for Cultural Power, a national organization investing in artists as agents of positive social change. She is an award-winning artist, cultural strategist, and social movement leader who partners with progressive advocacy groups to design effective cultural campaigns. A strategy advisor to artists of all genres, Favianna is regarded as one of the leading thinkers uniting art, culture, and social impact. Her projects include creating art for Ben & Jerry's, partnering with Joey Solloway to create 5050by2020.com, and facilitating artist delegations to the US-Mexico border. She is a recipient of the Robert Rauschenberg Artist as Activist Fellowship, the SOROS Racial Equity Fellowship and the Atlantic Fellowship for Racial Equity.
Regina Smith (She/Her) - Managing Director, Kresge Foundation's Art & Culture Program
Regina R. Smith is managing director of The Kresge Foundation's Arts & Culture Program. She leads national partnerships that position culture and creativity as drivers of more just communities and core to community health and well-being. Regina joined the Foundation's Arts & Culture Program in 2008 as a program officer. Before Kresge, she served as a leader and community advocate in public, nonprofit cultural, and philanthropic sectors to support artists, community-based organizations, and resident-driven action designed to promote equitable outcomes and neighborhood priorities. She has served on numerous local and national boards and committees, including Grantmakers in the Arts board chair. Regina was awarded a national fellowship for arts leaders of color and holds a Master of Arts, with a concentration in arts administration, from Winthrop University and completed her undergraduate studies in art history at the University of Pittsburgh.
F. Javier Torres-Campos (He/Him) - Program Director, Thriving Cultures at the Surdna Foundation
F. Javier Torres-Campos is currently Director of Thriving Cultures at Surdna overseeing a portfolio dedicated to investing in Black, Indigenous and People of Color (BIPOC) to prototype racially just systems and structures with their communities and build a more just world. Javier's career has been committed to supporting power building and cultural leadership as an important lever (of many) for transformative change. Prior to Surdna, Javier was the Director of National Grantmaking at ArtPlace. In his role, he built a comprehensive set of demonstration projects that illustrate the many ways in which arts and culture strengthen the processes and outcomes of the planning and development field. Javier was a founding member of the Constellations Fund and currently serves as a funding and evaluation partner for the Mosaic Fund and Network at the New York Community Trust.

Organizer of Constellations Culture Change Funder's Briefing