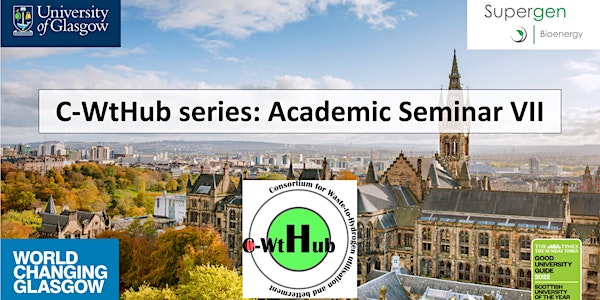 Consortium- WtHub Academic Seminar VII
Academic seminar by Prof Ashok Pandey discussing the status and outlook of biofuels policy in India
About this event
In the final academic seminar of the series Professor Ashok Pandey will present on the status and outlook of biofuels policy in India. Biofuels will play a strategic role in the Indian Energy Basket and India's Biofuel Policy 2018 and amendments address the role and implementation of biofuels. The seminar will discuss the general aspects of biofuel production and policy development in India regarding climate change and challenges for energy and environmental stability.
Topic: Consortium WtHub Academic seminar with Prof Pandey
Time: Aug 16, 2022 10:00 London
Join Zoom Meeting
https://uofglasgow.zoom.us/j/86315165478
Meeting ID: 863 1516 5478
Prof Pandey is currently a Distinguished Scientist at the Centre for Innovation and Translational Research, CSIR-Indian Institute of Toxicology Research, India and Executive Director (Honorary) at the centre for Energy and Environmental Sustainability in India. His major research and technological development interests are industrial & environmental biotechnology and energy biosciences, focusing on biomass to biofuels & chemicals, waste to wealth & energy, industrial enzymes etc. Prof Pandey is and has been Adjunct/ Visiting Professor/Scientist in universities in Europe, Asia, North America and South America. He has approximately 1600 publications/ communications which include 16 patents, 108 books, 900 papers and book chapters with h index of 118 and 60,000 citations (Google scholar).
Prof Pandey is Founder President of the Biotech Research Society, India, Founder & International Executive Coordinator of International Bioprocessing Association, France, Chairman of the International Society for Energy, Environment & Sustainability, Editor-in-chief of Bioresource Technology, Honorary Executive Advisor of (i) Journal of Energy and Environmental Sustainability, (ii) Journal of Systems Microbiology and Biomanufacturing: Subject Editor, Proceedings of National Academy of Sciences, India; Associate Editor, (i) Biologia – Section Cellular and Molecular Biology and (ii) Biotechnology Research and Innovation and editorial board member of several international and Indian journals.
Funded by Supergen Bioenergy Hub, C-WtHub is an academic consortium linking the waste-to-hydrogen (WtH) research and community in the UK with leading biohydrogen research groups overseas (e.g., China, India, South Korea, and USA). Please visit out webpage: www.gla.ac.uk/research/az/wthub for more information about incoming activities.