Consortium Exam Preparation Workshop II

Saturday, January 26, 2013 from 8:30 AM to 5:00 PM (PST)
Event Details
The Oral Portion of the Consortium Interpreter Exam for the State Courts can be tricky and challenging if you are not well prepared for it. Many people waste considerable amounts of time and money by repeatedly taking this test. This intensive exam-preparation workshop will give you the tools to have the upper-hand for the next round of testing this February. 
The trick is to know "what & how" to study. With that in mind, some key highlights of this workshop are:
An intensive focus on the texts, proceedings, and situations you will most likely encounter on the test.

The identification of scoring units to substantially increase your scores on each component.

Tips on how to improve the three modes of interpretation that you will encounter in this test: sight translation, consecutive interpreting, and simultaneous interpreting.

Avoiding common pitfalls that can hinder your performance.

Having the vocabulary arsenal: idioms, proverbs, expletives, false cognates, physical descriptions, automobile terms, weapons, drugs, among other relevant terms, that are commonly used in Interpreting standardized testing.
This workshop will include a brief review of the key strategies presented in session I, before focusing on the application of said strategies via many more practice exercises and mock testing-like activities. Several additional files (documents and recordings) will be presented and shared online with the attendes for future practice. 
About the Trainer: 

Edgar Hidalgo is a California State Certified Legal and Medical Interpreter who serves as a legal interpreter and translator at the San Bernardino Superior Court since October 2006. He is the coordinator of the Spanish Judicial Interpreting Program at California State University, Fullerton, where he teaches Simultaneous Interpreting, Consecutive Interpreting, Advanced Judicial Interpreting, Introduction to Court Interpreting, and Oral Exam Preparation Courses since August of 2008. He is also an instructor of Legal Interpretation at the University of California Riverside. He specializes in preparing students for California Court Interpreter certifications.
Mr. Hidalgo holds an MA degree in Spanish Literature & Linguistics from Cal State University Fullerton, a Bachelor's degree in Translation & Interpretation Studies and a Bachelor's degree in Spanish from Cal State University, Long Beach. He also studied Legal Interpreting at the Southern California School of Interpretation.
He worked several years as a staff interpreter both at Long Beach Memorial Hospital and Children's Hospital of Orange County and in the private sector, as a freelance medical and legal interpreter, before he was hired as a full-time staff interpreter for the courts. Mr. Hidalgo is an active member of interpreter organizations such as NAJIT (National Association of Judiciary Interpreters and Translators) and CFI (California Federation of Interpreters). His works have been presented in national interpreting conferences, where hehas conducted training for certified interpreters. His educational material for interpreter training will be published in the near future.
Event time: 8:30 - 9:00 am Registration
                     9:00 - 5:00 pm Workshop (1 hour lunch, non-hosted)
About the location:
California State University Fullerton
800 N. State College Blvd, Fullerton, CA 92834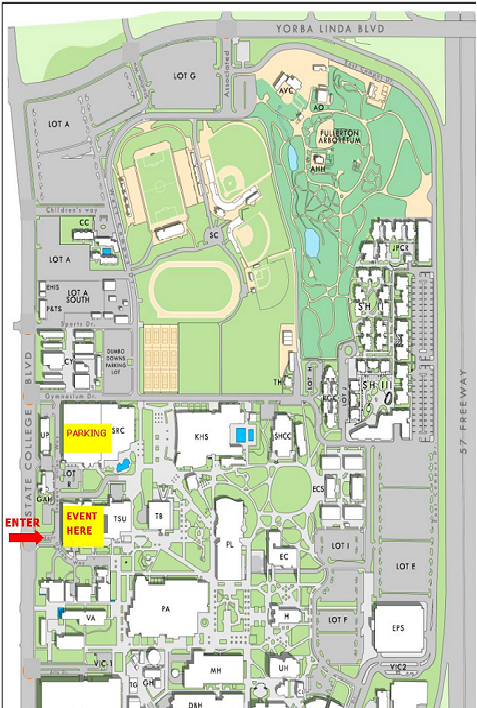 Room: Gabrielino  http://asi.fullerton.edu/tsu/map.asp


Califonia State University, Fullerton Detailed Campus Map:
http://parking.fullerton.edu/_documents/parking/DetailedCampusMap.pdf


Parking Information:
Califonia State University, Fullerton Detailed Printable Map (includes parking lots):
http://parking.fullerton.edu/_documents/parking/PrintableCampusMap.pdf
~ There is NO parking fee on weekends ~
The parking Lot closest to TSU is named State College Parking Structure (SCPS) (located at the intersection of Student Union Way & State College) Building structures are coded in orange and Parking Structures/lots coded in purple.
Cancellation Policy: 
GlobalTradu LLC reserves the right to cancel any event due to lack of enrollment or other factors. In the event of a cancellation, registered participants will be notified by e-mail and will receive a complete refund. If a participant chooses to cancel their confirmed registration, or cannot or does not attend the workshop, the following refund criteria will apply:
Cancellations must be sent in writing to info@globaltradu.com

Cancellations received 10 or more days from the scheduled event date will be offered a 50% refund

Cancellations received 9 or less days from the scheduled event date will not be offered a refund
Don't miss out on this great opportunity to prepare ahead of the February testing cycle.
Like us on Facebook to get the most current updates about this and other events.
We hope to see you there!
The GlobalTradu Team
When & Where

Cal State University Fullerton Titan Student Center
800 N State College Blvd
Fullerton, CA 92831


Saturday, January 26, 2013 from 8:30 AM to 5:00 PM (PST)
Add to my calendar