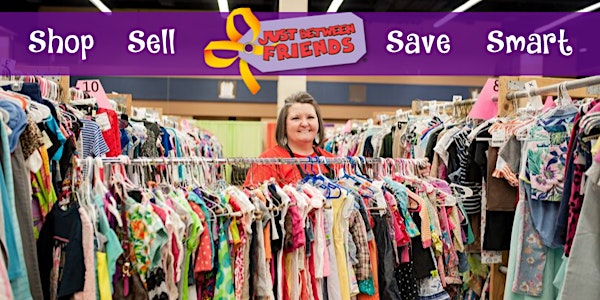 Consignor Ticket JBF Edina Fall 2022
Welcome to JBF! We are excited to provide a place for you to sell your gently used children's items. Clear the Clutter and Cash In!!
When and where
Location
Southdale Center - Lower Level 10 Southdale Center Lower Level (Take stairs/elevator by J.Crew to Lower Level) Edina, MN 55345
About this event
Welcome to JBF!  No more sitting in the driveway for multiple days, no waiting to connect with someone in a parking lot to sell one toy.
The key to your success as a consignor is to tag high quality items that are clean and have all pieces included. Price your items in the sweet spot of 1/4 to 1/3 off retail price. If you allow your items to reduce on the last day of the event, you will see a significant jump in your sales. Consignors earn 60% on sales at JBF. Consignors will also receive a presale pass to shop before we open our doors to the public.
If you have kids and all the stuff that comes with them, you have CA$H in your closets and we invite you to consign with Just Between Friends this spring.
To sell at the Edina Sale: (1) Sign up as a consignor at edina.jbfsale.com and (2) buy your Eventbrite consignor ticket to participate. Consignor tickets are NON REFUNDABLE. If you decide not to consign, you will lose this fee. 
When purchasing this consignor ticket, you will select a drop off time that works for your schedule. Drop offs for the sale are on August 6th & 7th .  All consignors must choose a drop time and pick up time so that we have a smooth flow of people throughout the day and have enough carts for you.
NEW THIS SALE: Full Service Drop Off! (previously called Curbside)
Drive up, Drop Off, and Drive Away... We'll put your items out for you!
For an additional cost you can choose our Full Service Drop off through the mall's truck tunnel, meaning you don't have to worry about going down the elevator with your items or even having to put your items away! Select a "Full Service Drop Off" Ticket to use this option.
When using Full Service, you will be given instructions and a map to follow to find our check in area in the mall parking lot. Then you will proceed to use the mall's truck tunnel and be able to park your vehicle and drop off your items curbside. ***If you have any large items that need to be assembled, you will be responsible for assembly***
We look forward to having you at the sale! 
Sale Dates: August 10-13
Sale Location: Southdale Center - Lower Lever Edina, MN 55345
***Shopping Entrance is different than the Drop off Entrance***
Shopping Entrance- Take stairs/elevator by J.Crew to the Lower Level
Drop off Entrance- Follow directions in the drop off email (sent a few days before drop off to those signed up to consign)
We accept cash and credit cards as forms of payment at the sale.
Can you help us market the sale by telling a few friends?  Request 10 postcards today by emailing jenicrabtree@jbfsale.com to help us get the buyers in the door! 
Find tagging tips at edina.jbfsale.com
FAQs:
Where in the mall is JBF?
JBF will be on the lower level of Southdale Center.
There are 2 entrances, we will be using one during drop off/pick up and the other for shopping. You will receive an email a few days before drop off with directions for drop off/pick up.
For shopping, use the elevator or stairs directly in front of J.Crew to get to our entrance.
Can I bring a stroller to the presale?
Due to the large amount of items on the sales floor, we ask that no strollers or wagons are brought to the presale.
Strollers and wagons are allowed during our public shopping times (Wed-Sat).
Are children allowed at the sale?
If possible, please plan to leave children at home for their own safety and for social distancing. If your child must come with you, they will need their own presale ticket (ages 2 and up). FYI-No tickets needed for children during our public shopping times August 10-13. To help maintain proper social distancing, all children must remain by your side at ALL times.
Has anything changed since Covid?
Yes, we have added several safety protocols similar to what you would find at your local grocery store.
We ask that all shoppers observe social distancing and comply with the current Minnesota guidelines such as wearing a mask/face shield unless you have an exemption.
Do I have to bring my printed ticket to drop off?
No, you do not need to bring your ticket to drop off, we will have the record of it.
What forms of payment do you accept?
We accept cash and all major credit & debit cards.
What happens if COVID changes the presale dates?
We will transfer your ticket(s) to the rescheduled sale dates.
What is the refund policy?
No ticket refunds (unless COVID forces us to cancel / reschedule). Also, all merchandise purchased at the sale is final, no returns or exchanges.
Can I bring food or beverages to the presale?
Yes, Southdale allows outside food. Please let us know if there are any spills so it can be promptly cleaned up.
How can I contact the organizer with any questions?
You can email Jeni at jenicrabtree@jbfsale.com
Thank you for supporting local families in your community
We would LOVE it if you shared this on FACEBOOK.  After you register with your email...share!  Thank you in advance!
Pictures showcase our events best and throughout the sale we will be taking pics to use both in print, on our website and in our social media. With this ticket you give permission for your photo to be taken at the sale to be used in future advertising, either print or social media.