| | |
| --- | --- |
| CONSIGNOR SIGN-UP & DROP-OFF - Nashville Music City JBF (Fall '18) | |
Event Details
  Fall/Winter Public Sale Dates - October 5-7
Hello Friends!
Thank you for your interest in consigning with us!  All Consignors who wish to sell their items in the Nashville Music City JBF sale will need to pay a $12.00 Consignor Registration fee to guarantee their spot. There are NO UPFRONT COSTS to you and the fee will be taken out of the earnings check at the end of the sale.
The fee helps defray a small part of the costs needed to secure the venue, printing, advertising to bring in shoppers, clothing racks, and supplies needed for an awesome event!
The earlier you register the more you save on your registration fee!
Consignor Benefits:

Shop Presale Thursday, October 4th and earn 60%


Shop Half-off Presale on Saturday, October 6th
Consignors that Volunteer Benefits:
Shop Presale earliest on Thursday, October 4th (tiered times based on shift/hours)

Earn up to 75% of sales based on shifts chosen

Shop 50% Presale on Saturday, October 7th

Shop 75% Presale on Sunday, October 7th (Sort/Breakdown Volunteer Only)

www.nashvillemusiccity.jbfsale.com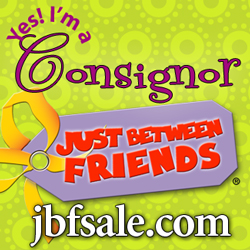 NASHVILLE MUSIC CITY JBF CONSIGNORS ROCK!

__________________________________________________________________________________ 
When registering you will need - Your JBF Consignor number (ex. A-253-YFC)
If you don't have one yet, please go to our website at www.nashvillemusiccity.jbfsale.com, register under consignors link. If you have forgotten your consignor number or JBF Login info - text me your name at 615-707-7541 and I will text it to you.
Drop-Off Days 
(Nashville Fairgrounds - Exhibitors Building)
 

MAIN DROP-OFF
Wednesday, October 3rd from 9am to 9pm
 MID-SALE (2 Hours ONLY) - For extra items or if impossible to make Wed. drop-off

Friday, October 5th from 12pm to 2pm


Need more details? Go to www.nashvillemusiccity.jbfsale.com or contact our Consignor Coach, Jaime, at 615-707-8157 (ph/txt), with consignor questions.

VIP CONSIGNING:
Want to Consign, but don't have the TIME? Consider VIP Tagging - we do the tagging for you! http://bit.ly/FS18VIP


HELP AT THE EVENT TO SHOP EARLY AND MAKE MORE!
Hey, we are all in this together!  Let's face it. We need each other!  It takes a small army with lots of hands and smiling faces to pull this off.  We are families helping families by buying and selling from each other to save and make money! 
Unsold Item Pick-up is: Monday, October 8th from 4-7pm
Where

Nashville Fairgrounds
500 Wedgewood Ave.
Nashville, TN 37203


Organizer
We are a HUGE seasonal children's, teen and maternity sales event! We provide a marketplace for local families to sell their new and gently-used kid's items to other local families looking for those same things - all in one safe, clean and organized place! With Nashville's ever increasing cost of living, budget-conscious families will love the unbelievable savings they will find at 50-90% off retail, for everything they need to raise stylish and confident kids! 

Our item acceptance guidelines ensure that our shoppers will find a quality selection of clean items, free of holes and stains, including all parts, batteries and in working order - for an exceptional shopping experience!

Come and you will see why Just Between Friends is quickly becoming Nashville's
Consignment Sale of Choice!


Events are held at: The Fairgrounds Nashville (Exhibitors Building),
500 Wedgewood Ave, Nashville, TN  37203