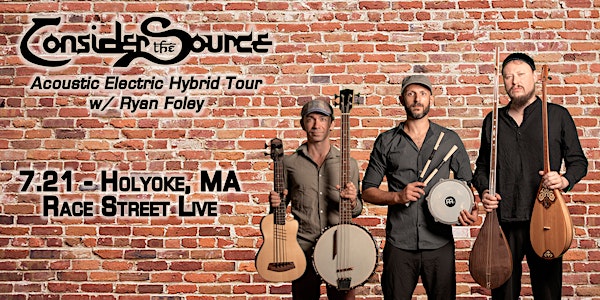 Consider the Source - Acoustic Electric Hybrid Tour w/ Ryan Foley
Performers
Consider the Source
Ryan Foley
Location
Race Street Live
114 Race St.
Holyoke, MA 01040
Consider the Source - Acoustic Electric Hybrid Tour w/ Ryan Foley at Race Street Live in Holyoke, MA
About this event
Entry requirements are subject to change. By purchasing tickets to this event you agree to abide by entry requirements in effect at the time of the event. If there are any changes to entry requirements, ticket holders will be notified by email and updates will be posted at racestreetlive.com.
Current Protocols:
Proof of Vaccination: Not required.
Proof of Negative Covid 19 Test: Not required.
Face Coverings: While mask-wearing is not required at this time, we still strongly encourage wearing a mask when not actively eating and drinking to protect yourself and others.
General admission seated.
Sci-fi fusion trio Consider the Source began in the underbelly of NYC performing improvisational heavy sets soaked in Indian and Middle Eastern styles. Once the band realized they had something truly original they decided to take it on the road leading to 15 years of touring the U.S. in addition to Israel, Germany, Turkey and a trip to India. Their studio catalog has evolved into a wide range of progressive rock, classical, jazz and Eastern European music mixed with many other styles from around the world. The band's sound is always evolving and has led them to constantly chase something new and exciting.
Consider the Source is living a purpose, a life together, having fun and creating art. Their next release is titled Hybrid Vol. 1 | Such As A Mule, a reference to the mix of electric and acoustic tracks. The album brings the full CTS exploration, with an additional host of instruments - Uyghur Dutar, Banjo Bass, Dabuka, Dombra, Ukulele Bass, Djembe and more. It's a strange thing to bring in a term like 'Post-World Music', but perhaps it is the best way to describe what is happening here. Consider the Source is not a world music band playing eastern European or Middle Eastern music, they are students of music and culture respecting the vast tradition and taking it into the 21st Century and beyond. This cultural fusion might also be a good descriptor, but in the end these terms fall short in describing the power and creativity at play here.
Ryan Foley is a New England based guitarist and vocalist who has a calling for playing music as it should be played, with drive and excitement. Whether it's playing within the acoustic genre or using electric instruments Foley conveys a deeper feeling that you can connect with from hearing the first note he plays. With a broad influence of artist from Doc Watson and Tony Rice to Consider the Source and Scale the Summit, Foley takes it all in and turns out something that is familiar and traditional yet striking and attention grabbing. Don't hesitate on getting the chance to see one of the best artist that New England has to offer.