Conserving Purple Martin in the Willamette Valley

Wednesday, March 19, 2014 from 6:30 PM to 8:00 PM (PDT)
Event Details
The purple martin, once common in the Willamette Valley, has experienced a steep population decline since the 1940's.  The primary causes are thought to be the arrival of European starlings in Oregon and a reduction in the availability of snags across Oregon forests.  Today, martin colonies occur in Oregon at only a few locations in the Willamette Valley, along the coast, and at sites near the Columbia River.  Since 2011, the Oregon Wildlife Institute and its partners have been taking actions to conserve a small colony of martins on OSU's Dunn Forest.  This colony is one of very few in North America where martins continue to use snags for nesting. In the short-term, we are providing starling-resistant nesting structures to maintain the colony. Once the colony is secure, we expect martins returning in the spring to nest in snags retained on harvest units in the forest.  Results of our efforts and future plans will be described in this presentation.
  Billy Frank Jr. Conference Center, Ecotrust Building
721 NW Ninth Avenue, Portland, Oregon 97209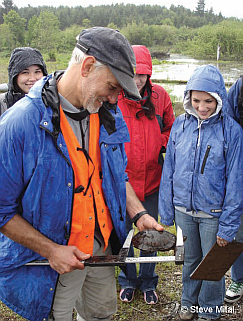 Dave Vesely is a Senior Wildlife Ecologist at the Oregon Wildlife Institute in Corvallis. Dave earned a M.S. in forest ecology from the School of Forestry at OSU.  He has been involved in wildlife research and conservation for more than 20 years.  Besides his work to help purple martins in Oregon, Dave is involved in a study of kit foxes in Malheur and Harney Counties, conservation efforts for native turtles, and training dogs to assist in surveys of rare and threatened wildlife.
When & Where

Billy Frank Jr. Conference Center
Ecotrust Building
721 NW Ninth Avenue
Portland, OR 97209


Wednesday, March 19, 2014 from 6:30 PM to 8:00 PM (PDT)
Add to my calendar
Organizer
Empowering the lasting conservation of fish and wildlife and the enjoyment of our natural resources.
Oregon Wildlife: 503-255-6059
Get Social with Oregon Wildlife!
@orwildlife
www.owhf.org
www.facebook.com/orwildlife
www.youtube.com/orwildlife