Sales Have Ended
Registrations are closed
Thank you for adding your name to the RSVP list for our upcoming event with Ian Bartoszek from the Conservancy of Southwest Florida and our python research. We look forward to welcoming you on March 16, 2017 at 6 p.m. If you are not a Naples Zoo Member attending for free, you will be able to pay at the ticket box on that evening. Feel free to share this event on your favorite social networks to help wildlife event more! If you cannot attend, please update your registration so the seats are free for others to join us. Thank you again! Best wishes, Tim L. Tetzlaff Director of Conservation Naples Zoo at Caribbean Gardens 239.262.5409 ext 122 | tim@napleszoo.org
Sales Have Ended
Registrations are closed
Thank you for adding your name to the RSVP list for our upcoming event with Ian Bartoszek from the Conservancy of Southwest Florida and our python research. We look forward to welcoming you on March 16, 2017 at 6 p.m. If you are not a Naples Zoo Member attending for free, you will be able to pay at the ticket box on that evening. Feel free to share this event on your favorite social networks to help wildlife event more! If you cannot attend, please update your registration so the seats are free for others to join us. Thank you again! Best wishes, Tim L. Tetzlaff Director of Conservation Naples Zoo at Caribbean Gardens 239.262.5409 ext 122 | tim@napleszoo.org
Description
The first wild Burmese python in Florida was documented in 1979. In the past decade, however, their numbers appear to have skyrocketed. The negative impact on native wildlife populations is just beginning to be understood. Join Ian Bartoszek, biologist at the Conservancy of Southwest Florida, to hear what he's learned from three challenging years of research on the pythons of Collier County and possible paths forward for residents and land managers in dealing with this new member of the ecosystem. Naples Zoo is one of the funders of this important research.

Gather at the python exhibit for an informal mixer from 6 to 7 p.m. followed by his presentation and Q&A in the Safari Canyon open-air theater until 8 p.m. Please dress comfortably for this evening outdoors.
Admission: $10 | Naples Zoo Members: FREE
RSVP on the green REGISTRATION button on the top right of this page as seating is limited.
Ian Bartoszek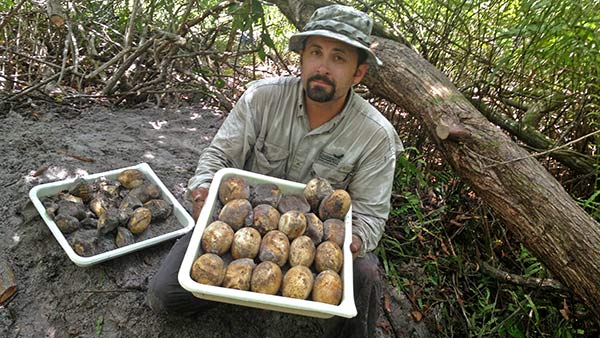 Ian with a small clutch of Burmese python eggs.
Ian Bartoszek is a Wildlife Biologist and the Science Coordinator at the Conservancy of Southwest Florida where he has worked for the previous 16 years. He currently serves as the Invasive Animal Lead for the Southwest Florida Cooperative Invasive Species Management Area. He has been the primary field biologist on a radio-telemetry study tracking Burmese pythons in Collier County since January 2013. Mr. Bartoszek has a degree in Wildlife and Fisheries Science from the University of Arizona.


FAQs

How do I pay?
The $10 general admission fee is paid by cash or credit card at the Naples Zoo ticket box the night of the event.
I'm a Naples Zoo Member. Can I bring guests?
Anyone included in your membership that enters the zoo at no charge is also welcomed free to these events inlcuding the extra guests that are part of Conservator and Curator levels. If you have neighbors or friends that would like to attend, they can join you by paying the nominal $10 general admission fee.
What is the dress code?
These are casual events held outdoors. Dress comfortably to stand during the mingling time prior to the lecture start. And dress for the weather if it's cool as well.
Are there minimum age requirements to enter the event?
Any age is welcome, but the Naples Zoo Conservation Lecture Series are directed at an adult audience. We leave the age requirements open as parents are the best judge of the maturity level of their child for events like these.