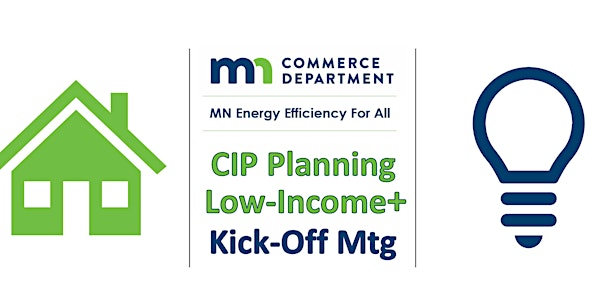 Conservation Improvement Program (CIP) Planning for Low Income+ Kick-Off
Kick-off meeting for anyone who wants to learn about the utility energy efficiency framework in MN and how to improve low-income programs
About this event
**NOTE: This is a virtual meeting. The Zoom link will be shared Wednesday morning and an hour before the event, as well as when the event begins. If you already have a forwarded Outlook invite for this meeting on your calendar, you do not need to register here.**
The Minnesota Department of Commerce and MN Energy Efficiency for All (EEFA) Coalition invite you to join a kick-off meeting of energy and housing advocates, energy efficiency implementers, community members, local government staff, utilities, and other interested parties to:
(1) Learn about the Conservation Improvement Program (CIP) and the ongoing Triennial planning process that utilities are engaging in here in Minnesota, and
(2) Get involved and provide recommendations to utilities on their "Low Income" programs ahead of their draft plans (due June 1, 2023). These plans help inform and guide how utilities design and invest in their energy efficiency programs for the next 3 years.
Who should attend: anyone who wants to learn more about the state framework for utilities' energy efficiency programs, and/or discuss how programs serving under-resourced households, renters, and multifamily residents could be improved broadly. **All are welcome and we encourage you to forward share among your network and community!**
What this will cover: This kick-off meeting will be focused on providing attendees a CIP 101 and learn about/discuss utilities' statutorily-required "Low Income" programs, and how utilities' energy efficiency programs may be improved broadly to ensure benefits are reaching customers who could most benefit, e.g. renters, multifamily residents, and under-resourced households.
What this won't cover: Given this is a kick-off meeting, detailed information on each utilities' available "low-income" programs will not be covered here, but we will focus on high-level improvements or suggestions that are broadly applicable to multiple utilities' "low income" programs. Utilities may be scheduling their own meetings to review and discuss their specific "low income" programs before or after this meeting.
Will there be more of these meetings? This is the first of several meetings to be held during winter/spring 2023, and there will be more opportunities to engage in summer 2023 and beyond.
Got extra time? Learn about the CIP program (Minnesota's energy efficiency regulatory framework) through this explainer blog (copy and paste into web browser): https://fresh-energy.org/the-conservation-improvement-programs-legacy-in-minnesota.
Don't have time to read it? Don't worry, we will also spend time during the kick-off reviewing what CIP is and how it has evolved over the past few years.
Are there any other prep materials or resources? A two-page overview of these meetings can be requested by sending an email to Anjali Bains, bains@fresh-energy.org.
Other questions? Ask us! Email Anjali Bains at bains@fresh-energy.org