Description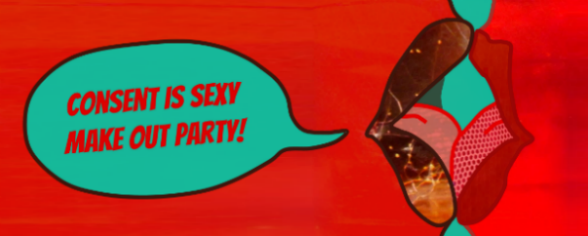 Being clear and communicative during sexy times is a great way to make sure that everyone enjoys themselves and no one has a negative experience. But it can be hard to figure out exactly how to ask for what you want, and what the person you're with wants. So let's practice!
This event is part of Pleasure Pie's Experiential Growth Series. It's about learning to communicate in sexual situations in a way that makes people feel comfortable and respected, through discussion and practice. :)
Here's how the evening will go:
Discussion
We'll start the evening with a thoughtful conversation about consent. What are some ways you can ask for consent without it being awkward? How can you say yes? How can you say no? How can you react when someone says no to you?
Make out time!
Next, we will have some time to practice what we've talked about with one another, respectfully. Everyone will be strongly encouraged (but not required!) to ask someone if they can kiss them. Everyone will also be strongly encouraged (almost required) to say no to someone at least once (if you want to say yes to everyone who asks you to kiss, you can say no to someone, and then ask them again in a minute).
---
Safer space
Pleasure Pie strives to create safer spaces. We will share what that means to each of us and come up with some guidelines during this event, but for now you can check out some guidelines we've used in the past here.
Donations
This event is sliding scale. You are welcome to attend for free, or donate $4 - $25. Any donations go to Pleasure Pie for organizing the event and The Democracy Center for hosting us. No judgment on whether or not you donate, and any donation you're comfortable giving is very appreciated!
Accessibility
This will be in the Rosa Parks room in The Democracy Center. It is private and cozy. Unfortunately, the building isn't wheelchair accessible. Please let me know if stairs are a hindrance to you.
RSVP
You must RSVP on this page to attend this event. This is a private event and attendance is at the organizer's discretion. Applying to participate in this event is open to everyone, but your acceptance into the event is not guaranteed. You will receive an email ahead of time if your application has not been accepted. This event is 18+.
---
FAQs

Is this for people of all genders?
Yes! This is for people of all genders, races, ages, etc. Feel free to invite people! RSVP is required.
Is it weird if I don't kiss anyone during this event?
You are not required to kiss people! If you're not feeling it, that's totally fine.
Will there be people having sex at this event?
Nope. This event is about kissing and being sensual with each other. If you're kissing someone, you are welcome to ask them if you can touch their body, but we are setting a few boundaries:

1. Don't take off or move anyone's clothes (including your own). Everyone should stay clothed enough to walk down the street.
2. Don't touch anyone's genital areas (even if it's through their clothes).
For the record, we have absolutely no problem with sex parties, but this event is not a sex party.