Description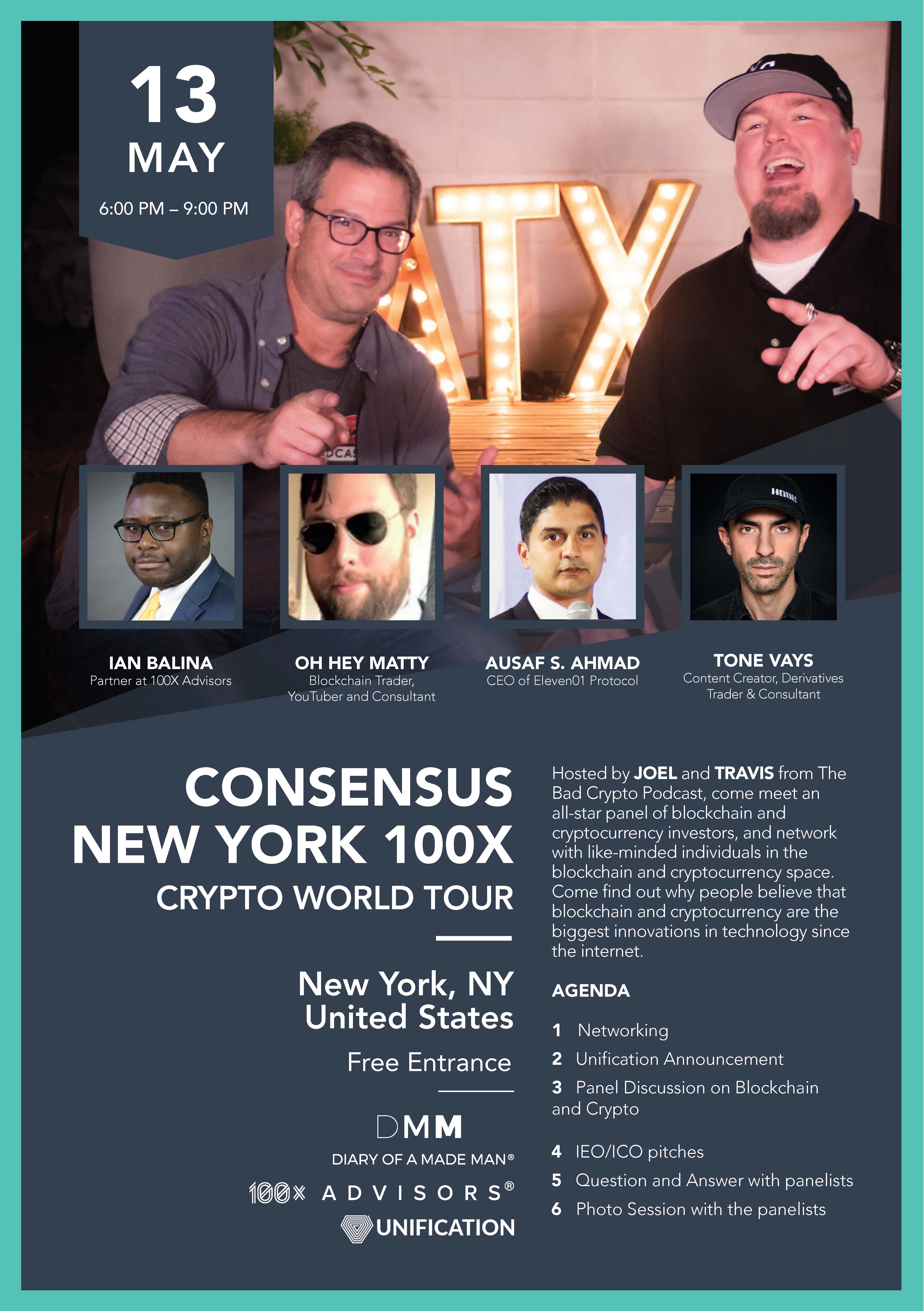 Hosted by Joel and Travis from The Bad Crypto Podcast, come meet an all-star panel of blockchain and cryptocurrency investors, and network with like-minded individuals in the blockchain and cryptocurrency space. Come find out why people believe that blockchain and cryptocurrency are the biggest innovations in technology since the internet.
AGENDA
1 - Networking
2 - Panel Discussion on Blockchain and Crypto featuring Ian Balina, Tone Vays, Oh Hey Matty, and more
3 - IEO/ICO pitches
4 - Ask Me Anything on Blockchain and Crypto with panel (AMA)
5 - Photo session with the panelists


EMCEES FOR THE EVENT
Joel Comm is a New York Times bestselling author, blockchain enthusiast, professional keynote speaker, social media marketing strategist, live video expert, technologist, brand influencer, futurist and eternal 12-year-old.
With over two decades of experience harnessing the power of the web, publishing, social media and mobile applications to expand reach and engage in active relationship marketing, Joel is a sought-after public speaker who leaves his audiences inspired, entertained, and armed with strategic tools to create highly effective new media campaigns.
Travis Wright is a top marketing technologist, author, keynote speaker, blockchain advisor, tech journalist, and podcast host. He is the former global digital and social strategist at Symantec for the Norton brand.
Wright is the cofounder & CMO of CCP.Digital, a Kansas City & SF-based digital ad & content agency. Wright is the author of Wiley & Sons, "Digital Sense, The Common Sense Approach to Social Business Strategy, Marketing Technologies, Customer Experience and Emerging Technologies", which published in January 2017.


FEATURED PANELISTS


Ian Balina - Partner at 100X Advisors and YouTuber
Ian Balina is a Blockchain Investor, Advisor, and Evangelist. He has built three million-dollar businesses from the ground up, and appeared in The Wall Street Journal, Forbes, CNBC, Huffington Post, The Street, INC and Entrepreneur Magazine for his work in analytics, cryptocurrencies, and entrepreneurship.
A former Analytics Evangelist at IBM, Ian has brought a data-driven, "money-ball" approach to investing in blockchain startups, called "Token Metrics".
Ian is a founder and General Partner at 100X Advisors a blockchain investment and advisory firm. Last year 100X Advisors traveled to over 35 countries evangelizing blockchain while investing in 15 different blockchain startups in 15 different countries. Originally from humble means, Ian is dedicated to giving back through his philanthropic efforts with Children of Uganda and Black Girls Code.


Tone Vays - Content Creator, Derivatives Trader & Consultant

Tone has worked on Wall Street for almost 10 years starting as a Risk Analyst at Bear Stearns and later becoming a VP at JP Morgan Chase in the aftermath of the 2008 financial crisis. His expertise is in Economic Trends, Trading and Risk Analysis. Ever since getting involved in the Crypto Currency ecosystem in early 2013, he has been very active in spreading the relevance and importance of this technology as it helps promote economic freedom. Tone has been featured in several Documentaries like Magic Money & Bitcoin - Beyond the Bubble. Tone is now an independent content creator at ToneVays.com and on his YouTube Channel focused on sound economics & finance. Tone holds a Masters Degree in Financial Engineering from Florida State University along with Bachelor Degrees in Mathematics and Geology.


Oh Hey Matty - Blockchain Trader, YouTuber and Consultant
Oh Hey Matty is a prominent blockchain and cryptocurrency trader, YouTuber and consultant. Previously a professional poker player, his background lies in computer science, software quality assurance and Selenium development. OHM is the founder and owner of Oh Hey Matty Consulting LLC and is a full time crypto forex trader who is best known for his specialization in Renko Chart Algorithmic Trading Systems.

Ausaf S. Ahmad - CEO, Eleven01 Protocol
Ausaf is the founder and CEO of Eleven01. He is a MIT-educated digital transformation leader who is passionate about creating an impact and transforming lives through technology and has a strong reputation for leadership execution and on-time delivery. At Microsoft, he drove 2X revenue growth and market expansion of Azure IoT suite through global partners. He founded and led the creation of the world's largest blockchain council that has several bluechip companies developing enterprise leading blockchain solutions and coming together to solve the technological as well as governance challenges of blockchain technology.

He has a diverse background in technology, finance, manufacturing and product engineering, leading multidisciplinary roles in Fortune 500 companies. This combination of sound engineering experience and proven management record is rare, making him one of the top leaders in blockchain today.

Prior to joining Microsoft, Ausaf was an aerospace engineer and a technical leader working as a propulsion product manager for the new airplane programs of 787 Dreamliner and 737 MAX at the Boeing company and chair high-powered meetings between US aviation regulator body FAA and Boeing. He also had a stint on Wall Street as an aerospace M&A investment banker.

Ausaf has an undergraduate degree in electrical and computer engineering, masters in aerospace engineering and holds a MBA from MIT Sloan School of Management.


WANT TO PITCH DURING THE IEO/ICO PITCH CONTEST?
If you are a blockchain startup having an IEO/ICO and want to pitch at the event, please apply here.
https://100xadvisors.com/contact-us/


ABOUT 100X ADVISORS
100X advisors is a full-service blockchain advisory firm focused on helping mature infrastructure projects blossom on a global level by leveraging one-of-a-kind business relationships with innovative growth strategies.


CORPORATE SPONSORS
Is your company interested in sponsoring the event? Please email ryan@ianbalina.com for sponsorship packages.


DISCLAIMER
When you enter a DIARY OF A MADE MAN ("DMM") event or program, you enter an area where photography, audio, and video recording may occur.
By entering the event premises, you consent to interview(s), photography, audio recording, video recording and its/their release, publication, exhibition, or reproduction to be used for news, web casts, promotional purposes, telecasts, advertising, inclusion on websites, social media, or any other purpose by DMM and its affiliates and representatives. Images, photos and/or videos may be used to promote similar DMM events in the future, highlight the event and exhibit the capabilities of DMM. You release DMM, its officers and employees, and each and all persons involved from any liability connected with the taking, recording, digitizing, or publication and use of interviews, photographs, computer images, video and/or or sound recordings.
By entering the event premises, you waive all rights you may have to any claims for payment or royalties in connection with any use, exhibition, streaming, web casting, televising, or other publication of these materials, regardless of the purpose or sponsoring of such use, exhibiting, broadcasting, web casting, or other publication irrespective of whether a fee for admission or sponsorship is charged. You also waive any right to inspect or approve any photo, video, or audio recording taken by DMM or the person or entity designated to do so by DMM. You have been fully informed of your consent, waiver of liability, and release before entering the event.
Diary Of A Made Man LLC will also use the data you provide on this form to be in touch with you & to provide updates and marketing. By registering in the event, you agree to receive Emails, Direct Mail & Customized Online Advertising from Diary Of A Made Man LLC.
You can unsubscribe at any time by clicking the unsubscribe link in the footer of any email you receive from us. For more information about our privacy practices please visit our website https://ianbalina.com/pages/privacy-policy