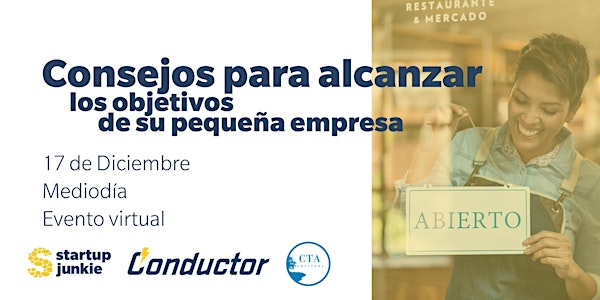 Consejos para alcanzar los objetivos de su pequeña empresa
¡Hablemos de pequeñas empresas! Algunos buenos consejos para propietarios de pequeñas empresas.
When and where
Date and time
Thursday, December 17, 2020 · 10 - 11am PST
About this event
Tips to Find Success for Your Small Business
¡Hablemos de pequeñas empresas! Algunos buenos consejos para propietarios de pequeñas empresas. Join us for some good advice for small business owners!
En esta presentación, Antonio Caldera de CTA Advisors destacará los pasos importantes que todos los propietarios de pequeñas empresas deben considerar al lanzar o crecer. Antonio ayudará a los asistentes a considerar la importancia de mantener libros y registros financieros, comprender qué se necesita para mantener las puertas abiertas y el punto de equilibrio, cómo administrar la deuda, cómo monitorear adecuadamente el flujo de caja y más.
In this presentation, Antonio Caldera of CTA Advisors will highlight important steps for every small business owner to consider when launching or growing. Antonio will help attendees consider the importance of maintaining books and financial records, understand what it takes to keep the doors open and breakeven, how to manage debt, how to properly monitor cashflow and more.
Esta presentación se llevará a cabo en español para la comunidad de empresas latinas del noroeste de Arkansas. This presentation will be conducted in Spanish for the Northwest Arkansas community of Latinx-owned businesses.
About the presenter:
Antonio Caldera has always had a deep relationship with business. He loved the idea of running a business and constantly wanted to learn more about how it all worked. His passion for business motivated him to graduate from the University of Arkansas with a B.S.B.A in Accounting and become a CPA.
Antonio Caldera gets excited about the opportunity to talk with friends and clients about how they can make running their business simpler. He enjoys making clients' financial picture clear and easy to understand, so that they can feel confident that they are making decisions that help their business succeed and grow.
His love of business and his enthusiasm for helping people is what led to the founding of CTA Advisors, LLLP. He's always happy to talk business with you."
This webinar will be hosted on Zoom. Please register to recieve a link and password to attend.
Este seminario web se realizará en Zoom. Regístrese para recibir un enlace y una contraseña para asistir.
About the organizer
Startup Junkie is a team of passionate people working every day to help entrepreneurs win and communities thrive. We exist to educate, inspire, and support entrepreneurs and innovators through no-cost, one-on-one consulting; events, workshops, and programs; and access to capital and talent.