Description
Consciousness & Psychedelics Conference is an educational event whose intention is to educate the Texans about psychedelic medicines, by showcasing diverse and knowledgeable speakers from the psychedelic healing community.


We aim to uplift the spirits of those who attend through interactive sessions, open learning, and genuine connections. Our goal is for you to leave inspired to take ownership of your own healing and well-being through natural medicine after attending the first ever
#ConsciousnessCon
at the Bob Duncan Center in Arlington on Saturday January 25th.
The first session will begin at 8am and then our speakers and panels will take us through the day, ending at 5pm.
Please note, no tickets will be sold at the door.

The official schedule of events is as follows. Please note that this schedule is subject to change.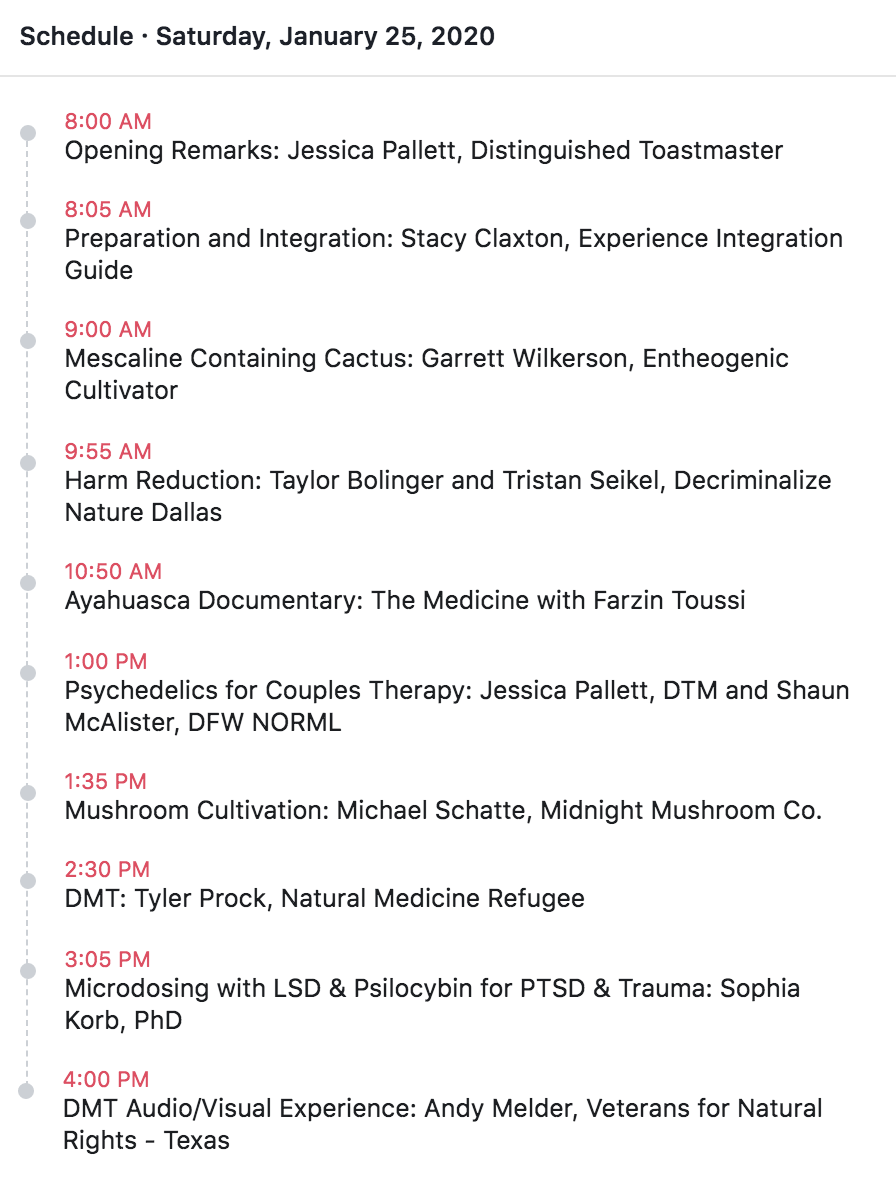 Presentations:
Psychedelics & Couples Therapeutics: Jessica Pallett and Shaun McAlister

DMT: Tyler Prock, Natural Medicine Refugee
Mescaline Containing Cactus: Garrett Wilkerson, Entheogenic Cultivator
Mushroom Cultivation: Michael Schatte, Midnight Mushroom Co.

Preparation and Integration: Stacy Claxton, Experience Integration Guide

Harm Reduction: Taylor Bolinger and Tristan Seikel, Decriminalize Nature Dallas

Microdosing with LSD & Psilocybin for PTSD & Trauma: Sophia Korb, PhD

DMT Audio / Visual Experience: Andy Melder, Young Americans for Liberty - Texas

Please note that Bryan Ortega will not be presenting as previously announced

Vendor Booths:
Merchandise and vendor booths will be setup in multiple rooms throughout the Bob Duncan Center and all vendor areas will be open to attendees all day, even during presentations. Email iamshaun@gmail.com for information about vendor booths.
CBDDulce.com


Essentials from Erin

Hempy's Emporium Smoke Shop

Dallas Psychedelic Society

DFW NORML

Fully Informed Jury Association

Tarrant County Libertarian Party

UNT Students for Sensible Drug Policy

Midnight Mushroom Co.


TwoBirdsChurch.com

Zilis
Partners:

Media passes are available. To request complimentary media passes, email iamshaun@gmail.com and include: 1) a link to your media outlet along with the type of coverage you intend to provide (print, blog, podcast, etc) and 2) an idea of the size of your audience/number of followers. Please note that no video will be allowed in the presentation hall, but video is allowed in the exhibitor areas and outdoors.