AUTHENTIC COMMUNICATION ♥ CONSCIOUS RELATING ♥ SPEED DATING ♥ CONSENT ♥ LOVE ♥ CONNECTION ♥ INTIMACY
About this Event
Tantra for the People in Collaboration with Intimacy Unleashed
Refund and Safety Policy at Bottom
Review from recent participant:
"I loved the open and safe space you created yesterday and it was playful but not superficial at the same time.
For me, you are really of a very rare species and I appreciate your work and your mission."
~~~~~~~~~~~~~~~~~~~~~~~~~~~~~~~~~~~~~~~~
We could all use a more conscious way to connect, relate, and be vulnerable, communicate our desires, and share. This will help you being present-time focused on relating, from the ground up.
We create a permission field to explore the MIND, BODY, and SOUL connections. An amazing opportunity to meet other beautiful beings in an energetically conscious and open-hearted way.
Come laugh and explore. This most likely isn't like any other dating experience you've had. ♥
~~~~~~~~~~~~~~~~~~~~~~~~~~~~~~~~~~~~~~~~
⥇ EVENT DESCRIPTION ↞
Conscious Speed Dating: A Tantric Journey is an intimate, fun take on the classic speed dating. This is an experience you won't want to miss as it will shift the perception of how we relate as well as give skills that will help relationships flourish.
This is an amazing opportunity to meet like-minded, open-hearted people and create deep fulfilling connections.
We will have participants facing each other and guide you through beautiful, fun, and intimate connection exercises, once complete we will rotate to their next 'date experience'. We will have participants rotate.
The exercises will involve creating an inner circle facing outwards and an outside circle facing inwards. Each circle will pair up with someone of the opposite side and they will be guided through a connection exercise, then we will rotate you to your next 'dating experience.' This will continue until everyone has had a chance to experience each other.
The exercises are both fun, intimate, and create a beautiful energetic platform to feel what someone feels like beyond the traditional chit chat of 'where are you from?' and 'what do you do?'
We've created this journey using tantric practices of feeling the energetics at a subtle level as well as using the 5 senses to connect with people who see us for what we are beyond the job titles and superficial veil we create in the typical dating experience. All in a beautiful safe container where your essences are gently brought to the surface and celebrated.
Come with a clear mind, playful attitude and the willingness to open your heart ☆
We are looking forward to dive deep into this experience with you!
~~~~~~~~~~~~~~~~~~~~~~~~~~~~~~~~~~~~~~~~
⥇ OUR FLOW ↞
THE EVENING IS ORGANIZED INTO 5 PARTS.
1. Arrival & registration Please arrive 15 min. before.
2. Creating agreement container and safety field
3. Meditation and learning to 'dance' in the unknown
4. Conscious Speed Dating
5. Closing and secret matching
~~~~~~~~~~~~~~~~~~~~~~~~~~~~~~~~~~~~~~~~
⥇ FOR WHO? ↞
✦ For everyone who desires more authentic connections in their lives
✦ For all genders and orientations, because of market demands, our event participants often are looking for the opposite sex to connect with, we encourage that if you do desire same-sex connections as well to feel open to communicating, using your voice to empower yourself. We will be connecting people based on the sex that they are representing, but we will not discriminate against any expressions
✦ For all looking to deepen what it feels like to break down walls between beings on an extraordinary first date
✦ For those who desire to act from non-attachment
✦ For those looking to explore LOVE
~~~~~~~~~~~~~~~~~~~~~~~~~~~~~~~~~~~~~~~~
⥇ PRACTICAL DETAILS ↞
✦ There is no nudity or sexual interactions involved
✦Our natural scents play a crucial role in the choice of lover/s. This is a scent (chemical) free event.
✦ We ask that you come without chemical scents, our natural scent is both appreciated and plays a role in attraction, we want to make sure people that can't handle scents don't feel uncomfortable
✦ At the start of the event, we will create guidelines and boundaries so that everyone will feel safe and supported in moving as far as they choose. Everyone has freedom and it's not required to do anything you don't want to do and we will create a social context in which there will be no pressure so everyone gets to choose their level of participation.
~~~~~~~~~~~~~~~~~~~~~~~~~~~~~~~~~~~~~~~~
A few helper spots available >>> contact Aleksandra at eros8medicine@gmail.com
Review from a recent participant:
"This work was so simple yet so deep, I love how we could go deep in such a short time period. I fell in love numerous times..." - Bettina
"Thanks Intimacy Unleashed. I loved the open and safe space you created yesterday and it was playful but not superficial at the same time. For me you are really part of a very rare species and I appreciate your work and your mission." - Anon
Sprout
Creators of Conscious Speed Dating
⥇ Contact ↞
Mariachiyoga@gmail.com
⥇ SOCIAL MEDIA ↞
⥇ FOLLOW ON INSTAGRAM ↞
@intimacyunleashed - http://instagram.com/intimacyunleashed
@eroticprayertantrictemple - http://instagram.com/eroticprayertantrictemple
⥇ FIND US ON YOUTUBE ↞
Adult Sex Education - https://bit.ly/adultsexeducation
~~~~~~~~~~~~~~~~~~~~~~~~~~~~~~~~~~~~~~~~
DOOR SALES:
If the event tickets are not sold out, there will be tickets available at the door at a first come first serve basis. Look forward to seeing you there.
RETURN POLICY:
Due to the nature of the event, we don't typically have a return policy for people that just don't show up, but we are open to giving you a spot at a following speed dating event assuming we are not sold out.
Due to the current scenario, if you do have concerns about health, we will gladly transfer your ticket to another event in the future.
For a full refund, you must request a week before
⥇ HEALTH COVID-19 INFORMATION SAFETY ↞
You're fully responsible for ensuring that you come healthy to our events.
If you have symptoms for COVID-19 or other illnesses which could be contagious we ask you to not participate and inform the organizers to give you a credit for our next event.
Symptoms are dry coughing, sore throat, loss of smell (very specific!), pain in the chest, fewer.
YOUR FACILITATORS: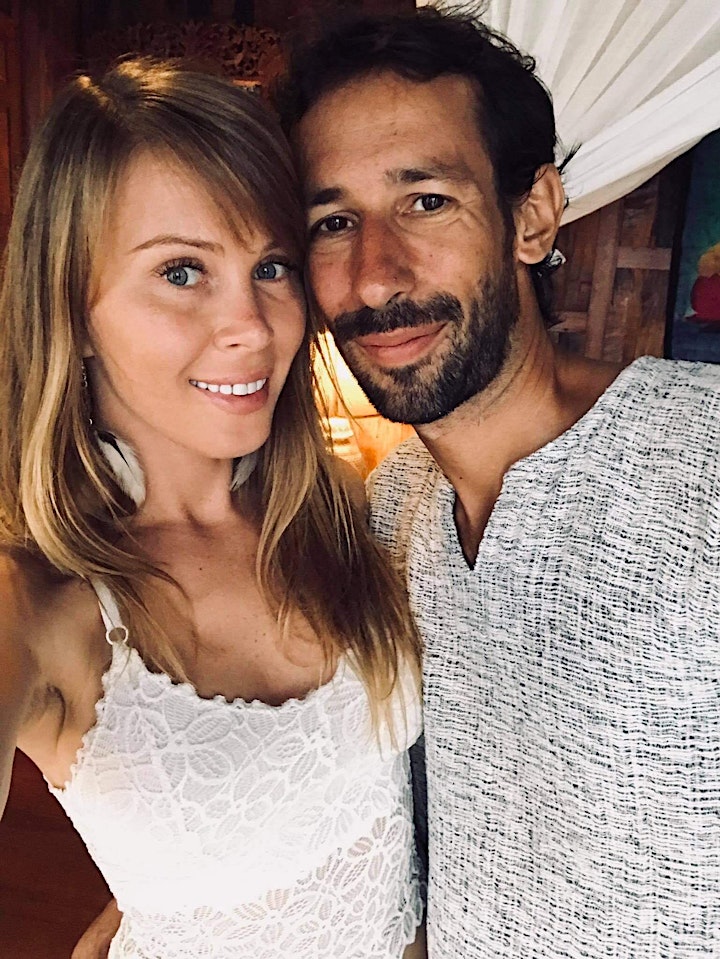 Maria and Martin are a married tantric couple.
They have been on this path together for the last 3 years around the world.
They are both yoga teachers and trained in many modalities including tantra, breath work, dance and different type of therapy and massage.
They would love to share with you in Mazunte their passion for aliveness, authentic relating, intimate connection, vulnerability and playfulness.
More info: They also offer their co-creation ,an online course "Tantric massage and connecting rituals " at Tantraforpeople.com
Contact:
mariachiyoga@gmail.com
martin.thetahealing@gmail.com
WA: +66922924601/+447739588034