Conscious Marketing and Communication For Purpose Driven Leaders

Tuesday, May 19, 2015 from 5:00 PM to 8:00 PM (PDT)
Event Details

It's Our First Education Event of 2015!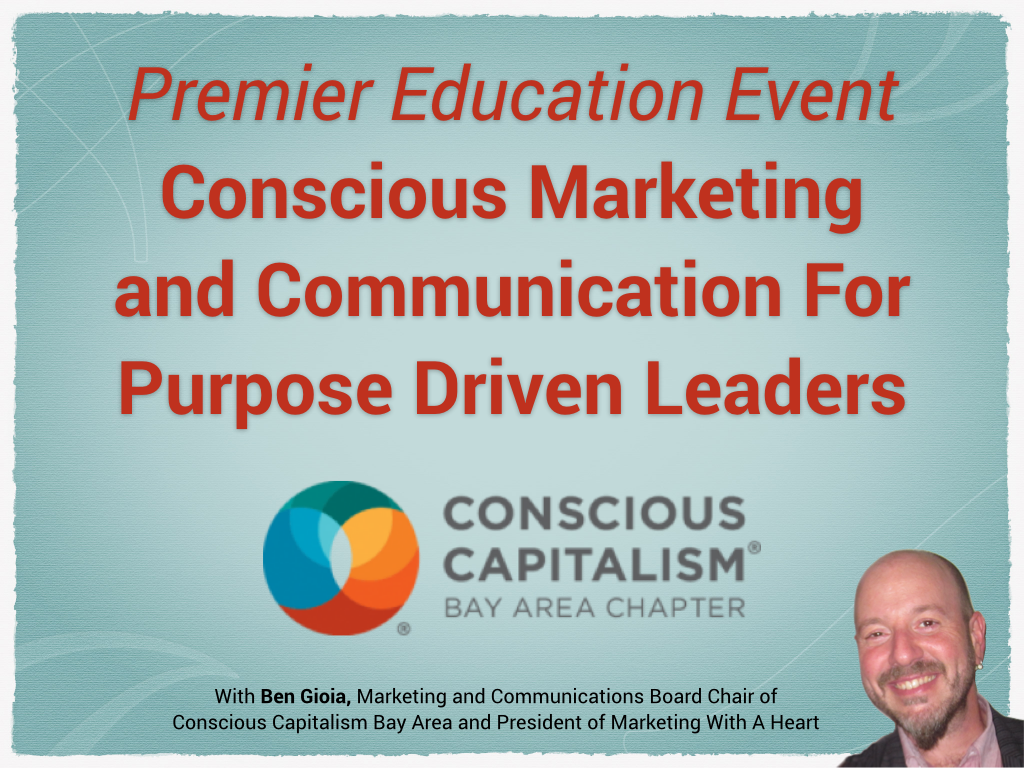 • Learn the best ways to develop authentic relationships with your clients, customers, and other stakeholders.
• Discover how to connect the dots from your vision to their goals and dreams...so you can help more people with your business.
• Get people to your website, onto your list, calling you for a consultation, investing in what your offer, and bringing a flood of new and repeat business to your door.

Join us on Tuesday, May 19th for an informative talk and hands on training...giving you actionable insights and tools that you can use right away!

(You'll also receive 5 valuable, bonus resources. Details are below.)
---
Who This Event Is For

• You...if you're an executive, entrepreneur, small business owner, speaker, author, coach, trainer, consultant, or other purpose-driven leader.
• You...if you have a message, product, service, or story that you need to bring to the world.
• You...if you want to learn the most effective way to communicate with your prospects, customers, clients, employees, vendors, partners, managers, stockholders, co-workers, colleagues, the government, the media, your local community, and / or your board of directors.
 
---
Why Conscious Marketing and Communication Is Good For Your Business

Conscious marketing and communication will make your company or organization more profitable, more successful, and more sustainable because conscious marketing outperforms traditional marketing.

Studies show that you'll invest only 10-25% of what everybody else in your industry is spending on their marketing.*

It will help you develop authentic relationships with your clients, customers, and other stakeholders—while giving them tremendous value—so they literally become the loyal, enthusiastic voices of your business.
 
It will get people to your website, onto your list, calling you for a consultation, investing in your products and services, and telling the world about what you offer…because it's changing their lives for the better.
---

About The Presenter
Ben Gioia ("joy-a") is the premier speaker, coach, and consultant on conscious marketing, selling, and service and the Marketing and Communications Board Chair for Conscious Capitalism Bay Area. Ben's #1 best selling book, Marketing With a Heart, offers a new philosophy, strategy, and bottom line for business that's based on authentic communication, conscious leadership, and service.
Ben helps people use the right language and tell their story the right way—to inspire, lead, and transform lives. He delivers speeches and trainings for purpose-driven leaders, professional associations, organizations, and companies...around the country, around the world, and on the web.
---

What You'll Receive
In addition to the live talk, hands-on training, and two awesome networking opportunities...you'll also get:

 
1) a print copy of Ben's #1 best-selling book Marketing With A Heart, How To Use Trust Based Marketing For Greater Income, Influence, and Impact;
("...it's a quick, fun read that's chock full of insights, and case studies, so you can make more money and help more people...")


2) instant access to a training that will help you go deeper on everything that you learn at the event;
("...it's a great way to complement what you learn from the talk and training, so your new found skills and insights become second nature and easily applicable to all aspects of your business...")


3) a framework that you can use in your business for expert positioning and to maximize your exposure; and
("...you'll have the most influence and impact when you're perceived as an expert or an authority, so your prospects buy and your stakeholders buy in...")

4) access to the video recording of this event.
("...did you ever have that moment where you just wish you could hear that speech again? Well, now you can...")

5) video recordings of two Conscious Capitalism Bay Area 2015 Panel Events (in case you couldn't join us earlier this year):
(February)
How To Attract, Retain, and Engage The Best Talent
The Win-Win-Win Approach To Building The Right Teams and Creating Fortune 100 Results...While Using Business As A Force For Good
(March)
The Impact of Conscious Women Leaders in Tech
Change, Challenge, and Celebration

(Total value for all five: $297)
---

Event Details
5:00pm  Registration and Networking: hors d'oeuvres, beverages, and wine will be served.
6:00pm  Informative & Actionable Talk, Break, Hands-On Training, Q&A
7:30pm  Networking
8:00pm  Event Concludes
---

Many Thanks To Our Sponsors

---

*Notes:
In Conscious Capitalism, authors John Mackey and Raj Sisodia offer examples of how:
• Google and Starbucks have created a powerful following through conscious business and marketing.
• Whole Foods spends only about 20% of its industry average, with 90% of the marketing cost happening at local stores...focused primarily on community service activities.
• More and more companies are using social media as a way to build community and therefore spend far less on paid advertising.
Additionally, conscious business outperforms traditional business as evidenced by:
• companies like Ben & Jerry's, Google, IBM, Starbuck's, Trader Joe's, Method, Patagonia, Zappos, General Mills, and Whole Foods...who are putting it into practice every day;
• thought leaders like Accenture, Goldman Sachs, Harvard Business School, McKinsey and Company, and PricewaterhouseCoopers...who are proving results time and again; and
• data, like the Dow Jones Sustainability Index which has performed an average of 36.1% better than the traditional Dow Jones Index over a period of five years.
By signing up for this event, you agree that Conscious Capitalism Bay Area (CCBA) may record or photograph the Event (including You, your likeness and voice), and use it publicly or privately in any form of media, including for commercial purposes. By attending, You consent to the recording and photographing and grant CCBA an unrestricted, perpetual, non-exclusive and sublicenseable license to take, use, display, perform, distribute or exploit for any lawful and commercial purpose any recordings or photographs. If you do not agree, please do not register for this event.
(February)
Attendee List
Sort by:

Date

|

First Name

|

Last Name
When & Where

Hanson Bridgett
425 Market Street
26th Floor
San Francisco, CA 94111


Tuesday, May 19, 2015 from 5:00 PM to 8:00 PM (PDT)
Add to my calendar
Organizer
Conscious Capitalism, Bay Area Chapter
Conscious Capitalism Bay Area 

offers the inspiration, "how-to", and community for purpose-driven leaders, like you, to create positive, profitable impact through business. To become a member, please visit the CCBA membership page here.
Conscious Marketing and Communication For Purpose Driven Leaders