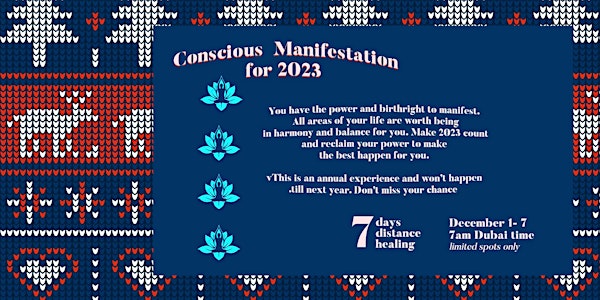 Conscious Manifestation for 2023 - 7 day distance healing
You have the power and birthright to manifest. All areas of your life are worth being in harmony and balance for you. Make 2023 count!
Refund Policy
Contact the organizer to request a refund.
About this event
You have the power and birthright to manifest. All areas of your life are worth being in harmony and balance for you. Make 2023 count and reclaim your power to make the best happen for you.
This 7 day distance healing will be there to increase your manifestation abilities, open up your energy system (chakras and meridians) and energize you to live in conscious abundance, joy, ease, and excitement.
Everyday you will focus on a specific area and recieve guidelines via email from me to give you the right words (a.k.a affirmations) and simple life scripting practices to help you manifest.
Distance healing is done remotely without your online or physical presence. It is a mass group healing work, which is done once you register and have chosen to participate. 
You will notice shifts in your mindset, beliefs, energy levels and come into deep realizations. 
It's absolutely magical.
You will be able to use some of the practices later, if you wish, as powerful tools for your manifestation journey.
The areas of life you will dive into are: health, self love, career, money, success and romantic love. You will then have 1 day left to integrate all and focus on one specific area to emphasize in your life for 2023.
This is an annual experience and won't happen till next year. Don't miss your chance.
Energy Activations you will receive daily:
Clearing your 13 chakras
Activating your manifestation gene
Rewiring the neural pathways for manifesting clearly
Activating joy vibration
Activating root and sacral chakras
Releasing cords, implants, hooks that are holding you back
Deactivating glass ceiling (limitations you put yourself)
Deactivating self-sabotage
Activating radiant energy of attracting
Activating the power of attraction
Creating 7 layers of protection
All these energy healing work will assist you daily for conscious manifestation and getting what your heart desires in 2023. There are no limits and no restrictions in getting what you need and want. Be open to recieve and do the daily practices to enhance the power of this work.
Daily Practice
You will need to do the daily practice which will be sent to you daily by email for this 7 day distance healing to be actively in charge of your life. This practice will involve the power of words, affirmations and guidance reading information for the collective to know which spirit guide is working you daily to manifest that area of life. You will get a picture and description of the card and be asked to connect to the energies to manifest through high vibrations/
Testimonials
What is Energy Healing Activations?
As part of the technique; Life Scripting a holistic healing and manifestation modality for the modern age, energy activations work with your subconscious mind, cellular memory, Junk DNA and soul fragments. It helps in reprogramming with thoughts and emotions that are healthy and positive, using high vibrational energies.
How does distance healing work?
Following the principle "energy goes where intention goes" is how all energy work is fundamentally done. Approving to receive these energies and putting in the intention you benefit from the healing work. You can choose to dedicate this time daily and be silent and present or you can go about with your day. Whatever you do, it's your permission by registering for yourself is how you reap the benefits.
What's more?
Once you register you'll receive daily emails with affirmations and simple guidelines to enhance the power of the work. You can share your feedback daily and receive answers within 24 hours from Maria.
FAQ
Can I register for more than 1 person?
Yes. Each registration is for 1 person. If you wish to register for friends or family, after registering, please send an email stating their full name to know who the energy will be directed to.
Do I need to ask for permission of the person I want to register for?
Yes. All the energy works are done with the permission and with consent of the person receiving. As much as you may have good intentions, asking for healing for others without others knowing will not necessarily benefit them.
Do I need crystals?
In your daily email, Maria will mention what you need on each day. The work is mostly done by her, so you just sit back and relax.
How do I know if it's working?
Every person is different based on their level of sensitivity. You might feel vibrations during the time of the distant session or afterwards as a form of releasing. It is always about trusting and putting the intention that is the most important. If you have huge level of resistance and don't believe in this kind of work, you don't need to participate. Do what makes you comfortable.
Will I receive any negative energies because its group work?
Your energy doesn't mix with anybody else's. This is high vibrational work with strict and direct intentions mentioned above. There is no harm in this process.
Can I do this if I am on any medication?
Yes, it will not interfere with your medications.
If I have anxiety will it work?
It will naturally help in reducing your anxiety. Anxiety is accumulated emotions trapped in the cellular memory and energy bodies. This can be of great help.
Should I not eat before or after the session?
You don't have to disrupt your eating or sleeping in any way. Have your normal routine.
If I have any questions, how can I contact you during the 7 days?
You can send all your confidential questions directly to Maria at info@iammarialeonard.com and she will reply to you within 24 hours.
About Maria
Maria Leonard is a Spiritual Growth Coach, Breathwork Facilitator, an Intuitive Speaker and the founder of Life Scripting; a Holistic Healing and Manifestation Modality. She is passionate about bridging spirituality and science and teaching others self-mastery. During her one-to-one sessions and workshops, she combines the art of Breathwork, Energy Activations, Intuitive Guidance from the Akashic Records and coaching and meditation training. By using her intuitive gift, healing abilities and vast knowledge she helps you see what's holding you back in life and gives you the tools to rescript your life's blueprint in order to manifest your heart's desires and accomplish your soul's purpose.