Description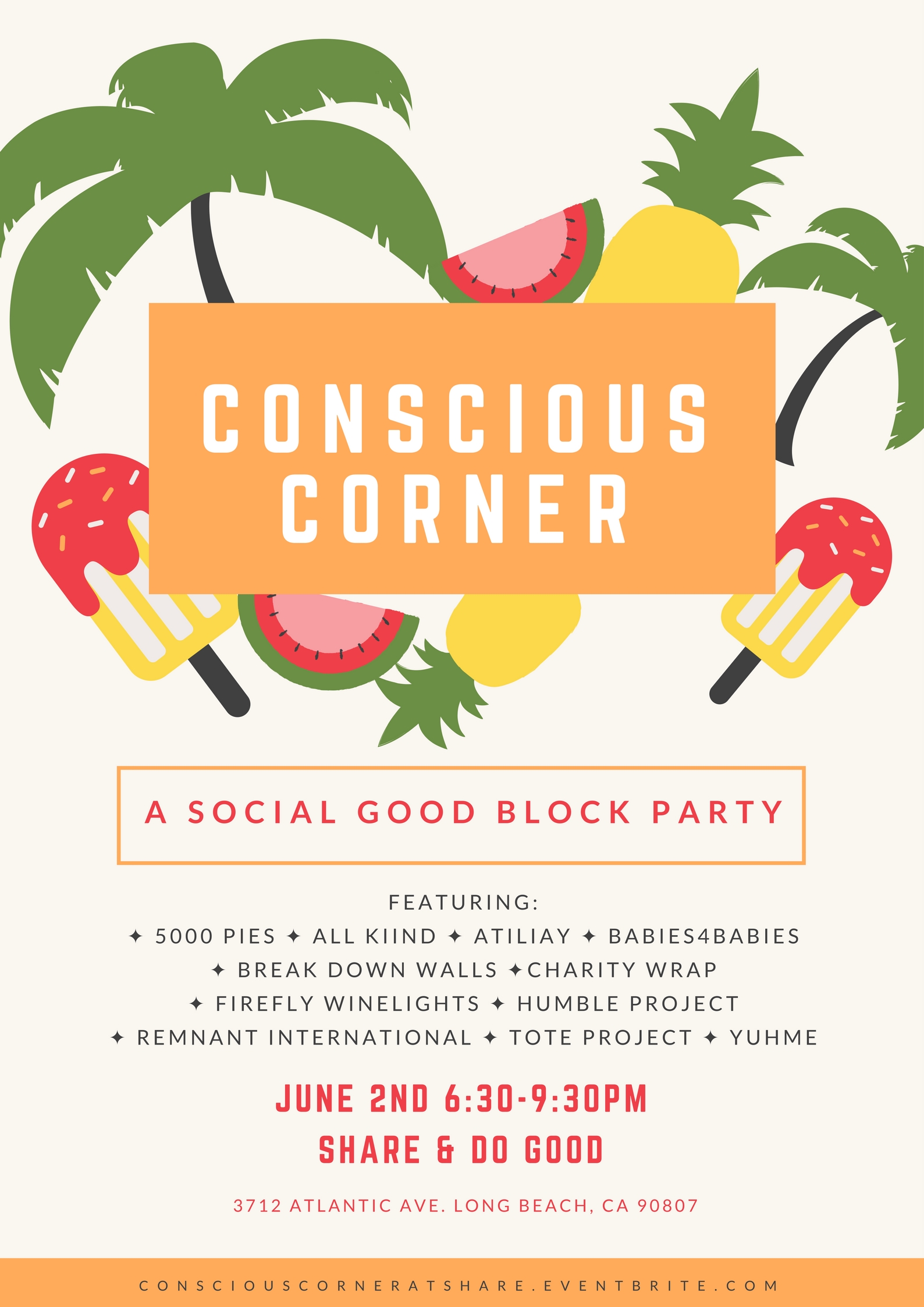 What better way to celebrate Summer than a block party, and a social good one at that! We're thrilled to launch something new happening at Share and Do Good Long Beach. We're calling it Conscious Corner, a social good block party in conjunction with Bixby Knolls' First Friday. We've gathered a group of amazing do good brands each making the world a better place through the work they're doing around the world.
Come kick off the summer of love with:
-5000 PIES: The most delicious pizza company that transforms the lives of young adults in West Long Beach through culinary employment and life skills coaching.
-ALLKIIND: Ethically made lifestyle products that challenge, celebrate, and give back.
- ATILIAY: Hand lettering + giving back. Specializing in greeting cards for all occasions.
-BABIES4BABIES: Ethically made baby blankets that funds a kit of birth and newborn essentials for a refugee mother
-BREAK DOWN WALLS: Ethically made clothing with a purpose. Every purchase you make helps build playgrounds for children in different countries
-CHARITY WRAP: Fashion and accessories that support organizations empower those who have been battered, abused, and neglected.
- FIREFLY WINELIGHTS: Bottles & jars. repurposed for a greater purpose. Every purchase benefits The Gwendolyn Strong Foundation.
- HUMBLE PROJECT: Apparel and accessories and platform for you to share your TIME, TALENT, or TREASURE with the less fortunate.
-REMNANT INTERNATIONAL: Headbands and apparel that empower the abused and neglected women of northern Uganda through the trades of screen printing and sewing.
-TOTE PROJECT: Fair trade, organic tote bags sewn by human trafficking survivors.
-YUHME: The world's most eco-friendly, reusable water bottle with a purpose
To add to the excitement, Share and Do Good will be having special discount that night. Pick a paper popsicle and it will reveal a discount to the shop, up to 50% off your entire purchase! Please join us on Friday June 2nd from 6:30-9:30 for an evening of do good fun.