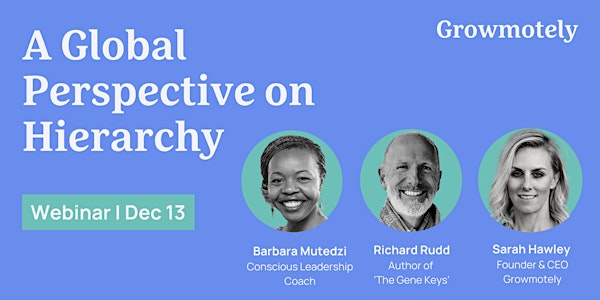 Conscious Conversations Webinar I A Global Perspective on Hierarchy
In our last Conscious Conversations Webinar of this year, we'll immerse into a deep and expansive conversation about hierarchy.
About this event
Our Founder & CEO Sarah Hawley will be joined by two deeply knowledgeable and embodied guests - Richard Rudd - author of The Gene Keys - and Barbara Mutedzi - Conscious Leadership Coach.
In what we think will be a transformational talk, they'll approach how hierarchy is reflected in our culture, and how it shows up on a global and individual scale, how it influences our businesses and the way we work and how we can refine our use of it and shift from practices based on fear and power to those rooted in collaboration, empowerment, creativity and service.
About Sarah Hawley
Founder and CEO of Growmotely, Sarah is a remote work advocate, leadership and conscious culture expert, serial entrepreneur, professional speaker, and author of Conscious Leadership: A Journey from Ego to Heart (a #1 release on Amazon).
She's now fueled by a deep passion for sharing the power of conscious leadership and remote work with other leaders and playing her part in redefining work for humanity.
About Richard Rudd
An international teacher, mystic and poet, Richard Rudd attended Edinburgh University where he gained a Master's degree in literature and metaphysics. A born explorer, he has studied with great teachers in the East, traveled through the Himalayas, the Pacific, the Americas and the Arctic. He worked in the film industry in Australia, trained as a teacher of Chi Kung and meditation in Thailand and sailed across the Atlantic Ocean on a small yacht. Throughout his adventures Richard has explored his love of writing and in 2006 he won the FISH international poetry award in Ireland.
Richard's mystical journey began early in life as he experienced strange energies rushing throughout his body. This catalyzed his spiritual search. All his studies became synthesized in 2002 when he began to write and receive the Gene Keys - a vast synthesis exploring the miraculous possibilities inherent in human DNA. It took 7 years to write the book and understand its teachings and applications. Today Richard continues to extend and embody the wisdom he receives, sharing it with an ever-growing audience around the world. His work has been translated into many languages, and in 2019, Richard was named on the Watkins list of The 100 Most Spiritually Influential Living People.
About Barbara Mutedzi
Barbara is a Conscious Leadership Coach.
She helps Business Owners and Leaders sharpen their Conscious Leadership Skills for higher performance, impact and return on investment. Conscious Leadership skills helps leaders create conducive environments for their People to step in, flourish and contribute at even higher levels. When our People and their internal and external environments are well taken care of, their performance increases, and consequently, their return on investment.
Using her academic and professional experience in leadership, psychology, anthropology, neuroscience and metaphysics, Barbara offers Conscious Leadership Programs geared to increase conscious leadership skills. All these are listed on her WEBSITE
After registering, please refer to your confirmation email for access to the event.
6pm GMT | pm CET | 9am PST | 12pm EST or see this time zone converter to check your local live streaming time.
If you are unable to join at the time of streaming, this event will be available to watch after the event. A link to the recording will be sent to all registrants.
See you there!