Description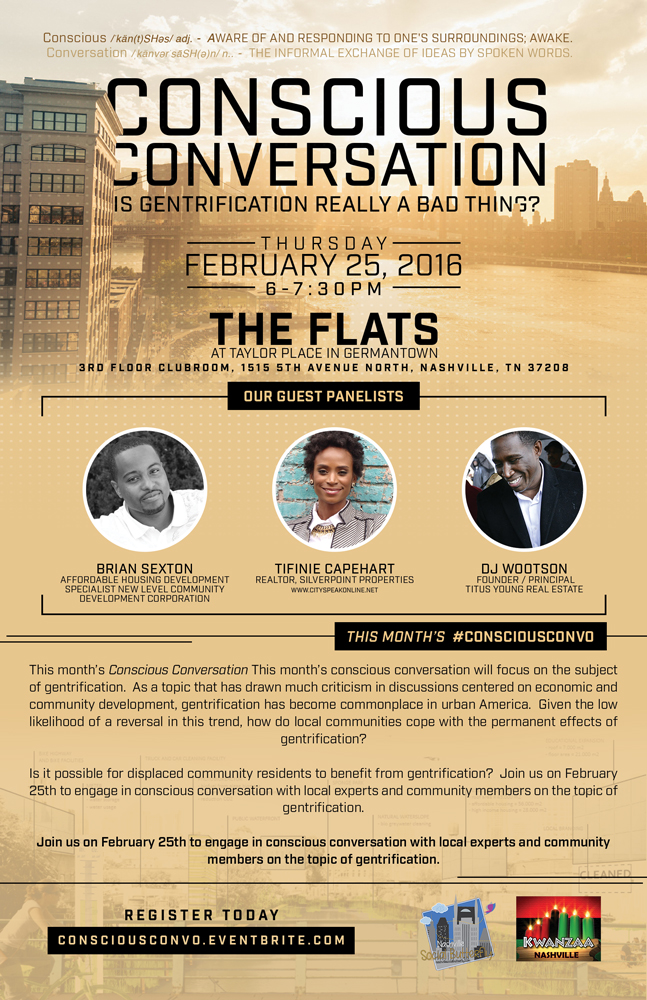 Influential Source presents Conscious Conversation: Is Gentrificaiton Really a Bad Thing?
This month's #consciousconvo will focus on the subject of gentrification. As a topic that has drawn much criticism in discussions centered on economic and community development, gentrification has become commonplace in urban America. Within the Nashville metropolitan region gentrification is occurring in a widespread manner. Evidence suggests that this trend will continue in the foreseeable future.
Given the low likelihood of a reversal in this trend, how do local communities cope with the permanent effects of gentrification? Is it possible for displaced community residents to benefit from gentrification?
Join us on February 25th to engage in conscious conversation with local experts and community members on the topic of gentrification.
Format: Connect, Converse, Create!
Panelists:
Tifinie Capehart, Realtor, Silverpoint Properties (www.cityspeakonline.net)
Brian Sexton, Affordable Housing Development Specialist, New Level Community Development Corp. (www.newlevelcdc.org)
DJ Wootson, Principal, Titus Young Real Estate
Sponsors:
Kwanzaa Nashville (www.facebook.com/kwanzaa.nashville)
Nashville Social Butterfly (www.nashvillesocialbutterfly.com)