Description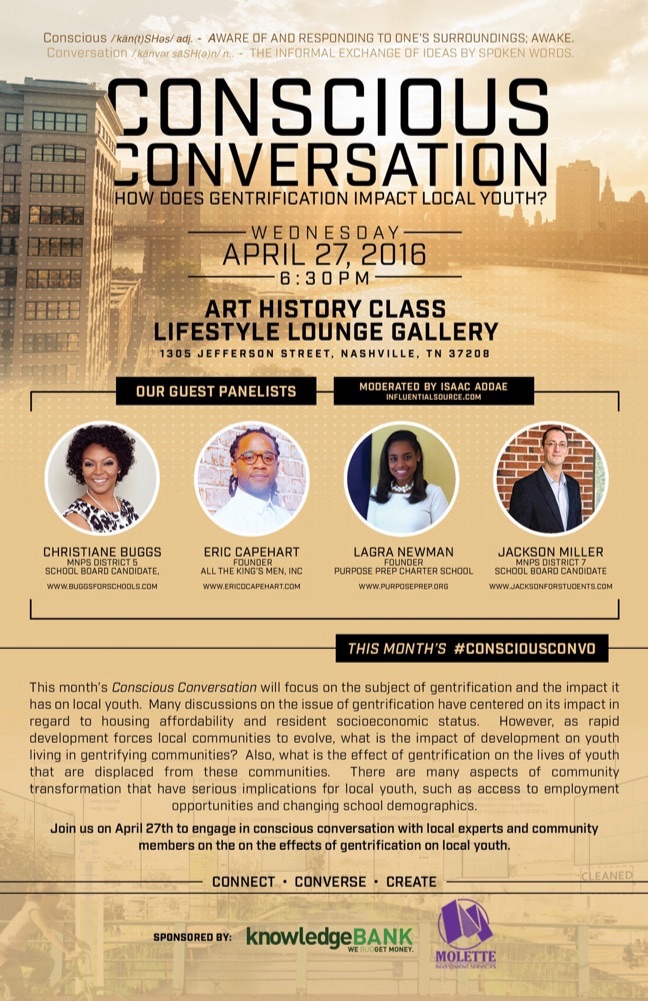 Influential Source presents Conscious Conversation: How Does Gentrification Impact Local Youth?
This month's #consciousconvo will focus on the subject of gentrification and the impact it has on local youth. Many discussions on the issue of gentrification have centered on its impact in regard to housing affordability and resident socioeconomic status. However, as rapid development forces local communities to evolve, what is the impact of development on youth living in gentrifying communities? Also, what is the effect of gentrification on the lives of youth that are displaced from these communities.
There are many aspects of community transformation that have serious implications for local youth, such as access to employment opportunities and changing school demographics.
Join us on April 27 to engage in a conscious conversation with local experts and community members on the effects of gentrification on local youth. We'll begin at 6:00 pm with informal networking, and the conversation will begin promptly at 6:30 pm.
Format: Connect, Converse, Create!
Moderator

Isaac Addae, Assistant Professor
College of Business, Tennessee State University
Panelists
Christiane Buggs
Assistant Director of TRIO Programs, Tennessee State University
MNPS School Board Candidate, District 5
www.buggsforschools.com
Lagra Newman
Founder & Head of School, Purpose Preparatory Academy Charter School
www.purposeprep.org
Eric Capehart
Founder, All The King's Men, Inc.
www.ericdcapehart.com
Jackson Miller
Managing Partner, L2M LLC
MNPS School Board Candidate, District 7
www.jacksonforstudents.com
Sponsors

Molette Investment Services - www.moletteinvestmentservices.com
Knowledge Bank Nashville - www.theknowledgebanknashville.org