Description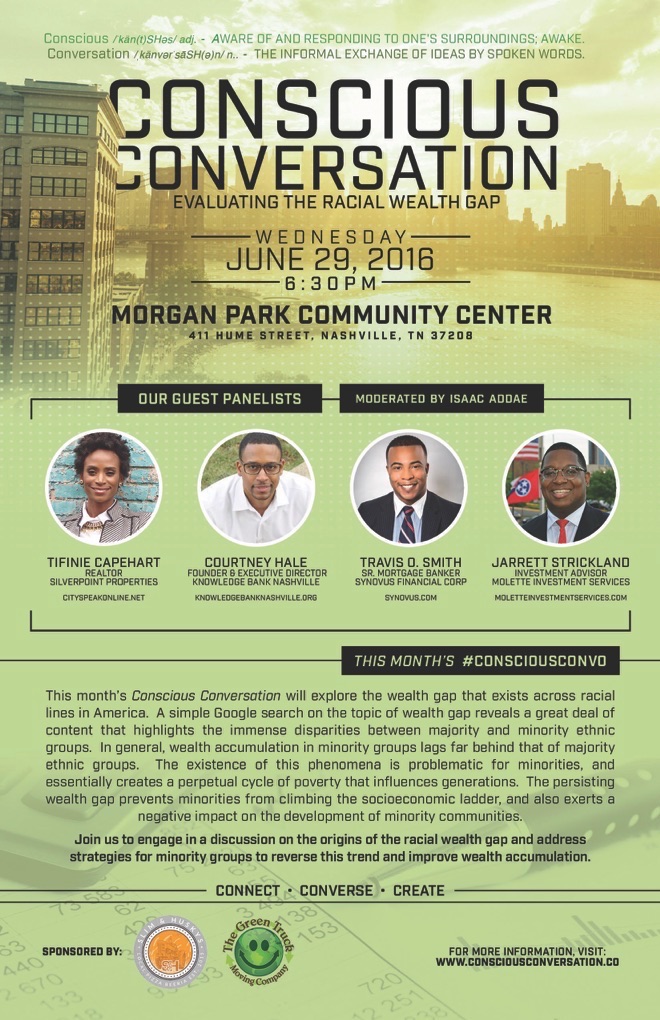 Conscious Conversation: Evaluating the Racial Wealth Gap
This month's #consciousconvo will explore the wealth gap that exists across racial lines in America. A simple Google search on the topic of wealth gap reveals a great deal of content that highlights the immense disparities between majority and minority ethnic groups. In general, wealth accumulation in minority groups lags far behind that of majority ethnic groups.
The existence of this phenomena is problematic for minorities, and essentially creates a perpetual cycle of poverty that influences generations. The persisting wealth gap prevents minorities from climbing the socioeconomic ladder, and also exerts a negative impact on the development of minority communities.
On June 29th, we will engage in a discussion on the origins of the racial wealth gap and address strategies for minority groups to reverse this trend and improve wealth accumulation. Join us and offer your perspective on the topic. Visit our website and Facebook group for additional details.
Format: Connect, Converse, Create!
Moderator

Isaac Addae, Assistant Professor
College of Business, Tennessee State University
Panelists
Tifinie Capehart
Realtor
Silverpoint Properties
www.cityspeakonline.net
Courtney Hale
Founder & Executive Director
Knowledge Bank Nashville
www.knowledgebanknashville.org
Travis O. Smith
Sr. Mortgage Banker
Synovus Financial Corp.
www.synovus.com
Jarrett Strickland
Investment Advisor
Molette Investment Services
www.moletteinvestmentservices.com