Conscious Capitalism 2013, San Francisco, CA, April 5 & 6, 2013
When and where
Location
April 5 - Masonic Theater, 1111 California St April 6 - Intercontinental Hotel, 888 Howard Street San Francisco, CA
Refund Policy
Contact the organizer to request a refund.
Description
NOTICE: Registration for Conscious Capitalism 2013 is now closed as we have reached capacity. Please watch the live webcast at on Friday April 5th, 8:30 am Pacific Time at ConsciousCapitalism.org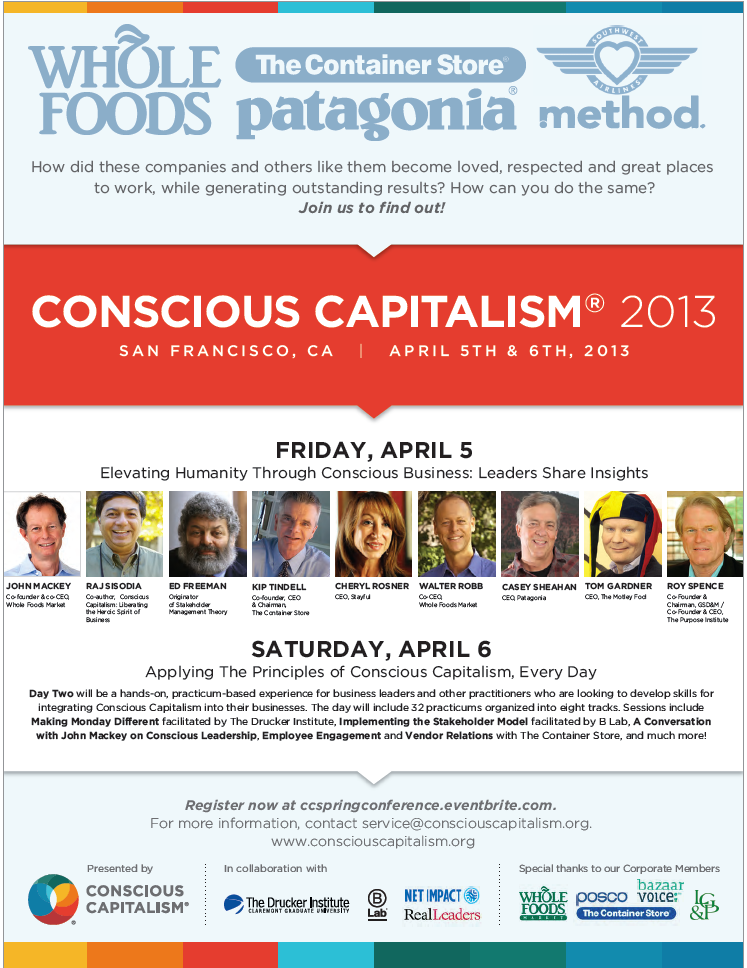 Learn how great companies become loved, respected and
great places to work, while generating outstanding results!


Friday April 5, 2013
Elevating Humanity through Conscious Business: A Day of Presentations & Conversation at the Masonic Center
Saturday April 6, 2013
Applying the Principles of Conscious Capitalism, Every Day: A Day of Practical Application of the Principles of Conscious Capitalism at the Intercontinental Hotel


Day One will be a presentation-based overview of the principles of Conscious Capitalism and their application to business, appropriate to a broad and diverse audience. Confirmed presenters include:

• John Mackey, co-founder & co-CEO, Whole Foods Market, co-author,
Conscious Capitalism: Liberating the Heroic Spirit of Business
• Raj Sisodia, co-author, Conscious Capitalism: Liberating the Heroic Spirit of
Business
• Ed Freeman, Originator of Stakeholder Management Theory
• Kip Tindell, co-founder, CEO & Chairman, The Container Store
• Casey Sheehan, CEO, Patagonia
• Walter Robb, co-CEO, Whole Foods Market
• Cheryl Rosner, CEO, Stayful
• Eric Ryan, co-fouder, Method Home Products

• Roy Spence, Chairman, GSD&M/IdeaCity, author, It's Not What You Sell, It's
What You Stand For

• And others

Day Two will be a hands-on, practicum-based experience of Conscious Capitalism for business leaders and other practitioners who are looking to develop skills and to explore best practices for integrating Conscious Capitalism into their businesses.
The day will include 32 practicums organized into eight tracks (Integration into Action – Purpose – two Stakeholder Orientation & Relations tracks - Conscious Leadership - Conscious Culture - Business Functions – and Meta Skills)
Sessions include:
Making Monday Different designed & facilitated by The Drucker Institute

Implementing, Assessing & Elevating Stakeholder Engagement designed & facilitated by B Lab
Customer Engagement with members of Whole Foods Market regional, local and store teams
A Conversation With John Mackey on Conscious Leadership (ask John your questions and learn more about his personal practices)
Employee Engagement and Vendor Relations sessions with leaders from The Container Store

And much more!
If you'd like to reserve a room at the Intercontinental Hotel call 1-866-781-2364 and use block code CC2 for a discounted rate.

For more information visit ConsciousCapitalism.org or email questions to service@consciouscapitalism.org