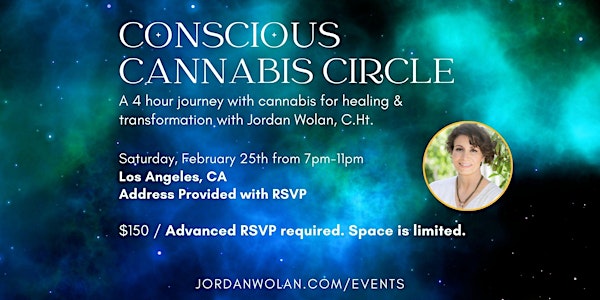 Conscious Cannabis Circle
Learn to use cannabis assisted, body focused mindfulness practices to support healing and transformation.
When and where
Location
Address provided with RSVP Address provided with RSVP Los Angeles, CA 90014
Refund Policy
Refunds up to 1 day before event
Eventbrite's fee is nonrefundable.
About this event
In this 4-hour in-person group journey, you'll learn how to use cannabis-assisted, body-focused mindfulness practices to support your healing, creative problem solving, and personal growth.
We begin with an introduction to the experience, a brief tutorial on mindful journeywork practices and intention setting. When we begin the circle, participants will imbibe cannabis with intention and then relax into a guided body scan and then enter into two music sets to evoke a deep internal experience for healing. The journey is followed by time to quietly write or share your experience.
This psychedelic cannabis event is appropriate both for those new to psychedelics and regular cannabis users and will surprise and delight more experienced psychonauts.
This transformational journey is what you make of it. Take some time before the event to set your intentions. What do you want to let go of? What do you want to bring in?
Who is this for? Do you want to...
Clear energetic and emotional blocks and difficult experiences of the past year
Reconnect with your purpose
Unlock creativity and problem solving
Ground and build resilience
Process big emotions such as grief, anger sadness, fear and shame
Relax and reconnect with your body
Connect with community
Explore and expand consciousness
Space is limited. Advance registration required.
After purchasing your ticket, please go to JordanWolan.com/forms and complete two forms: the Safety Assessment and Participation Agreement in order to attend this event. If you have any questions email jordanwolancht@gmail.com.
What to bring/ how to prepare:
Wear comfortable clothing and bring whatever you need to create a comfortable space: yoga mat, pillows, blanket, eye covering, journal, water bottle, and any personal objects for the altar.
This event is BYOW (bring your own weed). In the state of California, it is legal for adults to use cannabis for medicinal and recreational purposes. This event is 21+.
To participate, you must have a ride and be picked up after the event or use a rideshare service.
COVID vaccination and booster is required.
Any questions? Email: jordanwolancht@gmail.com.
About Your Guide
Jordan Wolan is a hypnotherapist and cannabis assisted psychedelic therapy guide based in Los Angeles. She is certified with Medicinal Mindfulness in Boulder, CO as a guide to lead cannabis assisted meditation journeywork. For more information visit JordanWolan.com.
LEGAL DISCLAIMER: Jordan Wolan fully complies with all local California State Cannabis laws. We are a harm reduction, mindfulness service and education company. We do not promote illegal activities or provide resources for obtaining illegal substances or illegal psychedelic psychotherapy services. Mindfulness Based Psychedelic Therapy is not psychotherapy although it works well as an adjunct support. Jordan Wolan does not provide or sell cannabis for any aspect of our program and is not a retailer, supplier, reseller, distributor, agent, representative or subcontractor of any cannabis supplier or retailer. As a psychedelic harm reduction program we do not support the misuse or abuse of Cannabis, any other drug or psychedelic medicine. Nor do we believe that Cannabis or psychedelic medicine exploration, even within the confines of applicable laws, is appropriate or beneficial for everyone.