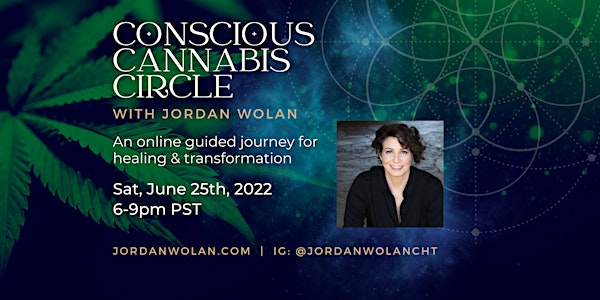 Conscious Cannabis Circle Online
Learn a mindfulness based practice with cannabis for healing and spiritual growth.
Refund Policy
Contact the organizer to request a refund.
Eventbrite's fee is nonrefundable.
About this event
In this 3-hour online circle you will learn how to use cannabis-assisted, body focused, mindfulness practices to assist with healing, creative problem solving and personal growth. This experience is intended as an introduction for those new to psychedelics and intentional cannabis use, or experienced psychonauts. This is a safe and sacred online group meditation practice and journeying experience for transformation and exploration.
Journeyers who have attended with us share they have experienced deep emotional healing, physical release of stress and tension, processing of trauma and grief, profound insights into life purpose and next steps, and inspiration for creative problem solving.
21+, BYOW (Bring your own weed). In the state of California, it is legal for adults to use for medicinal and recreational purposes.
NEW ATTENDEES: You will be asked to sign a waiver and participation agreement before participating in any event or journey that acknowledges that you have spoken with a medical doctor.
Questions? Email: jordanwolancht@gmail.com.
About Your Guide
Jordan Wolan is a Hypnotherapist and Cannabis Assisted Psychedelic Therapy Guide in private practice in Los Angeles. She helps business owners and creatives release subconscious blocks for greater success and happiness in all areas of life. Jordan trained with the Center for Medicinal Mindfulness in Boulder, Colorado and is in the credentialing program for Mindfulness Based Cannabis Assisted Psychedelic Therapy.
For more information visit JordanWolan.com or email jordanwolancht@gmail.com.
LEGAL DISCLAIMER: Jordan Wolan fully complies with all local California State Cannabis laws. We are a harm reduction, mindfulness service and education company. We do not promote illegal activities or provide resources for obtaining illegal substances or illegal psychedelic psychotherapy services. Mindfulness Based Psychedelic Therapy is not psychotherapy although it works well as an adjunct support. Jordan Wolan does not provide or sell cannabis for any aspect of our program and is not a retailer, supplier, reseller, distributor, agent, representative or subcontractor of any cannabis supplier or retailer. As a psychedelic harm reduction program we do not support the misuse or abuse of Cannabis, any other drug or psychedelic medicine. Nor do we believe that Cannabis or psychedelic medicine exploration, even within the confines of applicable laws, is appropriate or beneficial for everyone.