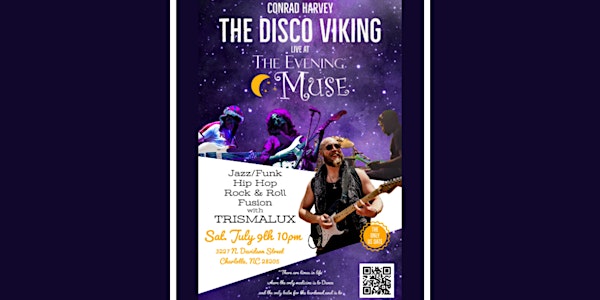 Location
The Evening Muse
3227 N. Davidson Street
Charlotte, NC 28205
Conrad "Disco Viking" Harvey & Friends
About this event
Featuring guest musicians:
Mikey Marrero on Guitar
Chaz Harris on Drums
Alex Kalicinski on Bass.
And a rotation of jazz and funk players performing new songs, Trismalux songs and some tasty covers!
I was dubbed the "Disco Viking" by the goddess "Tracie Frank", a title I cherish and a responsibility I will honor.
Born as Conrad Harvey on a mountain in the enchanted Pisgah Forrest, my first loves were swimming in the ice-cold rivers, climbing things and talking shit. As soon as the existence of music became apparent I just wanted to boogie.
An existence spanning millennia, the craft of song has been my life since I emerged from the enchanted waters of the river. 1000 unreleased songs in almost every genre and finally my first release is upon us.
Join me in the conquest of human hearts, that we may unify our divided world and inspire the practice of making billions of babies, grooving and loving even those we disagree with. This is the path.
Our enemies will be met with love, our friends will be met with groove and our mission will live on through the music for millennia to come.
Never Forget: I Love All of you Equally, in VERY Different ways.