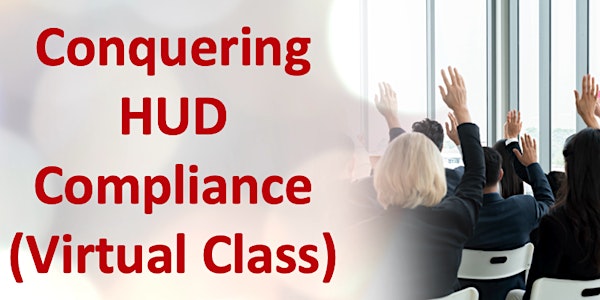 Conquering HUD Compliance w/ A.C.E Certification - Virtual Class
HUD Compliance Certification​ Course on eligibility, from processing applications, income, assets, leasing, and student status.
Refund Policy
Refunds up to 7 days before event
About this event
1 day 6 hours

Mobile eTicket
Conquer Multi-Family HUD Compliance
Created by Amanda Lee Gross, the "Conquering HUD Multi-Family Compliance" is a two-day, 11- hour course specially designed to assist affordable housing professionals in conquering HUD project compliance.
Amanda Lee delves deep into HUD's laws and regulations, while also providing real world examples with practical application. This engaging and interactive session utilizes numerous examples and exercises to ensure attendees complete the session with a thorough comprehension of how not only how to maintain project compliance, but why it is so important to do so.
Earn a Accredited Compliance Expert (A.C.E) Designation
The A.C.E. is a specialized designation for affordable housing management professionals working with HUD's Multi-Family programs. Professionals holding this designation have a demonstrable and thorough understanding of determining household eligibility and rent for HUD's Multi-Family Housing programs.
The A.C.E certification exam is an optional online exam that can be taken anytime within 2 weeks after the conclusion of the course.
Conquering HUD Compliance with A.C.E Certification Exam Agenda
Day 1, Part 1: Program Eligibility
Income Limits & Household Size
Social Security Numbers
Consent Forms
Sole Residency Requirement
Citizenship Requirements
Student Eligibility
Day 1, Part 2: Project Eligibility
Elderly/Disabled Projects
Remaining Members
Elderly/Disabled Preferences
Occupancy Standards
Definitions of Elderly & Disabled
Day 1, Part 3: Tenant Selection & Processing
Affirmative Fair Housing Marketing
Waiting List Requirements
Tenant Selection
Applications
Interviews
Day 1, Part 4: Verification Requirements
Methods of Verification
Term of Verifications
Intro to EIV
EIV Security Requirements
Overview of EIV Reports
Day 1, Part 5: Determining Income
Method of Determining Income
Overview of Income Inclusions
Overview of Income Exclusions
Earned Income Sources
Unearned Income Sources
Day 2, Part 1: Determining Asset Income
Introduction to Assets
Asset Inclusions & Exclusions
Imputing Asset Income
Disposed Assets
Review of Common Assets
Day 2, Part 2: Adjusted Income
Dependent Deduction
Childcare Expenses
Disability Expenses
Elderly/Disabled Deduction
Medical Expenses
Day 2, Part 3: Rent & Security Deposit Requirements
Rent Terminology
Rent & Assistance Payment Formulas
Rent and Fee Requirements
Gross Rent Changes
Security Deposits
Day 2, Part 4: Certification Processing & Lease Requirements
Certification Forms
Required Leases & Forms
Annual Recertification
Interim Recertification
Repayment Agreements
Day 2, Part 5: Termination
Termination of Assistance
Termination of Tenancy
Note: There may be areas of training where an overview will be provided. Areas that are not covered in full detail during the training will be provided as supplemental information.
Ms. Gross has eighteen years of hard-won, real-world knowledge and experience in all aspects of the affordable housing industry. She has learned the affordable housing industry from the ground up, starting as a site manager, eventually rising to the position of Compliance Director for a multi-state, 5,000+ unit management company. Ms. Gross has leveraged that experience and became a nationally recognized expert trainer in Fair Housing, LIHTC, RD, HUD, and HOME. Over the last eight years, she has conducted hundred of training nationwide, and has provided consulting services to State Housing Finance Agencies, Public Housing Authorities, management companies, and developers.
Ms. Gross is a featured speaker at numerous industry events every year. She also provides custom-tailored trainings to private organizations who understanding that highly-trained staff are more effective and better able to protect the assets and reputation of companies. She also works in a consulting capacity, advising clients in the development of their policies and procedures, optimizing project compliance performance, and addressing audit findings. Ms. Gross's areas of expertise focus on the following programs:
Fair Housing
Low-Income Housing Tax Credit (LIHTC) Program
USDA/RD Rental Housing Program
HUD Multifamily Housing Programs
HOME Investment Partnership Program
Tax-Exempt Bond Compliance
A Professional Training Experience
At All US Housing Consultants Workshops and Certification Courses, Attendees are guaranteed:
Easy to Follow Printed Materials and Reference Guidebooks for in-person training classes and a PDF Training /Reference Manual for all virtual classes
Professional Trainers with more than 10 years of experience as a trainer/speaker
A Relaxed and Fun Training Environment