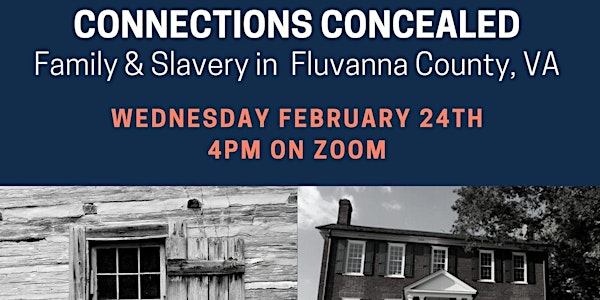 Connections Concealed: Family and Slavery in Fluvanna County, Virginia
Marty found her great aunt buried at a Black church, leading to research on persons enslaved by her ancestors and expanded insights on race.
About this event
In 2017 Marty learned that her unheard of aunt Maud (1867-1929), a daughter of slaveholders, was buried in the cemetery of a historic Black church. Maud's story anchors this account of interracial connections in Fluvanna County, Virginia during the era marked by the rise of Jim Crow. Marty will describe the navigation of relationships and identity through Maud's story as revealed by the written record and oral history. She will discuss how Maud's story led her to identify the people enslaved by her ancestors and describe specific methods, processes and networks used in her research.
Marty Jessup has conducted research to identify the enslaved people owned by her ancestors in the Shores community of Fluvanna County, Virginia. She is a member of the African American Genealogy Society of Northern California and the Afro-American Historical and Genealogical Society, Greater Richmond Virginia Chapter. Marty is a retired professor of nursing at the University of California San Francisco School of Nursing where she conducted qualitative heath justice research.
**This event will be on Zoom. We will send you instructions 24 hours before the event on February 23rd at 4PM. If you register after 4PM on February 23rd, then the instructions will be emailed at 3PM the day of the event, an hour before the event starts. Please note all times are Pacific Standard Time.**
This virtual event is sponsored by the California State Library Foundation.