About this Event
At the Connecting Dublin Event we are showcasing in-person speakers and online speakers. Audiences will include people attending the live event in-person and people joining in online from around the world.
There are always events that you would like to attend and make connections at, but there are often a lot of cost and distance involved. This is where the 'Connecting' event differs.
We want to connect and bring people together from around the world, through face-to-face and online networking.
The first 'Connecting' event will be hosted in Dublin, Ireland at The Dean Hotel, on March 4, 2020. Starting at 14:00 followed by Networking and Drinks at 16:45 Sophie's Terrace.
We will have 4 speakers covering topics that are aligned to Technology, Business, Language and Media.
The speakers and the audience will be attending the event in-person and online.
Don't miss it out. It's more than an event, it's a community!
Register today.
Register today! (Places are limited)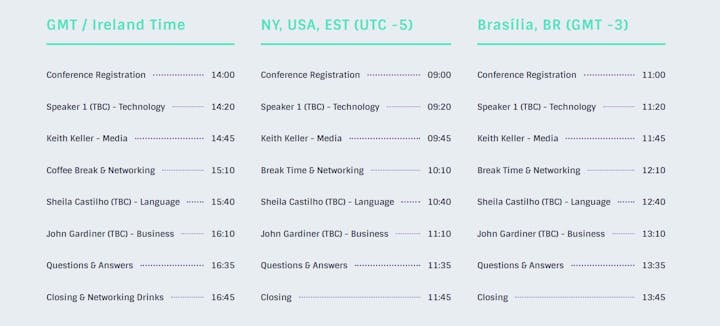 The Speakers
Jon Gardiner - Business
Private Investor & Partner at B2Brazil
Sheila Castilho - Language
Postdoctoral Researcher at ADAPT Centre
Keith Keller - Media
Global Twitter Video Marketing Specialist
TBC - Technology