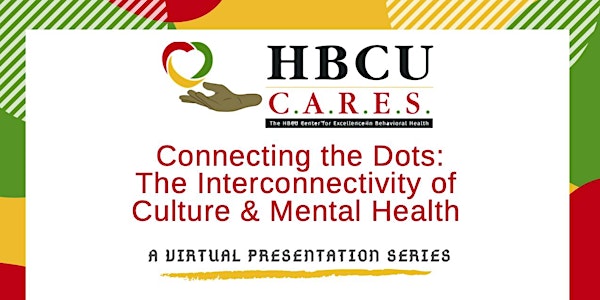 Connecting the Dots: The Interconnectivity of Culture & Mental Health
This is a virtual presentation series that explores mental health and its impact in various communities.
About this event
Are you a college student who's interested in Mental Health?
Would you like to learn more Behavioral Health fields?
If you answered yes to both questions, this is the event for you!
The HBCU Center for Excellence in Behavioral Health's, Behavioral Health Ambassadors are Graduate students in Counseling, Psychology, and Social Work programs across the country.
The Ambassadors have researched and prepared presentations exploring mental health, culture, and their interconnectivity.
Please join us for a fun, engaging, and educational experience. Remember...it's totally free!
Series Dates: April 14th - April 30th
Topic Dates/Times:
Mental Health & College Students- April 14th @ 5pm
Mental Health & College Students- April 15th @ 10am
Incarceration & Mental Health- April 16th @ 10am
Mental Health in Schools- April 21st @ 5pm
Mental Health & the African Diaspora- April 22nd @ 5pm
Mental Health Matters- April 28th @ 5pm
Mental Health Matters- April 29th @ 10:00am
Mental Health Matters- April 30th @ 5pm