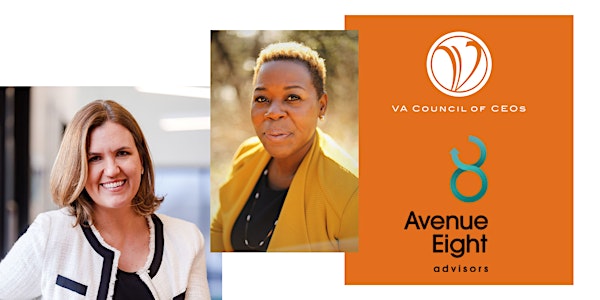 Connecting Leadership & Identity: Real Talk About Women in the Workplace
Updated Information Below!
About this event
Listen and learn from two power players in the Richmond-area leadership consulting space: Danessa Knaupp, CEO and Founder of Avenue 8, and Lucretia Anderson, a Life Coach for Richmond's Joyful Muse and a new coach for Avenue 8. Collectively, these speakers and executive-level coaches will candidly share their experiences and discuss the challenges women face in the workplace.
This panel discussion will be led by Connie Hom, CEO of Buckingham Greenery. Hom's experience running a successful statewide business for more than 35 years will add another unique perspective to the conversation.
After the panel discussion there will be breakout rooms to discuss the topic in small groups led by facilitators.
This event is sponsored by Avenue 8 Advisors and VA Council of CEOs.
This event is for VACEOs Members, Sponsors, and any CEO/business leader that is interested in this topic.
Schedule:
12:00-12:05 Welcome & Introduction of the Panel
12:05-12:25 Panel discussion
12:25-12:29 Breakout instructions
12:30-1:25 Breakouts
1:25 Closing
About the Presenters:
Danessa Knaupp, Avenue 8 Advisors
Danessa Knaupp is CEO and Founder of Avenue 8 Advisors, guiding the strategic direction of the firm and shifting the global conversation on leadership. She has coached hundreds of executives across every major industry and has developed a reputation as a candid, compassionate and courageous leadership partner. She is the author of the best-selling leadership manual, Naked at Work: A Leader's Guide to Fearless Authenticity and regularly addresses C-suite audiences on leadership authenticity, team effectiveness, executive presence, and women in leadership. For more, visit www.danessaknaupp.com or connect with Danessa on Linked In.
Lucretia Anderson, Joyful Muse Co., LLC
For emerging leaders, Lucretia views coaching as a partnership centered on personal development by accessing the awareness, strengths, and internal resources that provide leaders with tools to step into and sustain their roles with authenticity and integrity. Lucretia believes in the importance of all organizations to take a stance on issues that matter to all constituents. This includes anti-racist and equity education. Executive leaders who engage in anti-racist coaching as individuals do so to expand customer growth, increase confidence and boldness in creating and enacting equitable policies, and to retain and maintain relationships with customers, a diverse workforce, and business partners. As a company, anti-racist and equity training can enhance employee productivity and satisfaction.
ABOUT VIRGINIA COUNCIL OF CEOs
Virginia Council of CEOs (VACEOs) is a nonprofit organization connecting CEOs for learning and growth. Formed more than 20 years ago, Member benefits include placement in a peer roundtable group and access to a thought leader network and a robust program of events for learning and growth. This is not a networking group, but rather a group of CEO peers who are invested in the success of each Member. Learn more at www.vaceos.org.