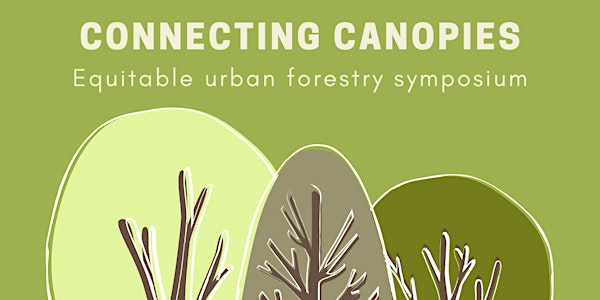 Connecting Canopies - Equitable Urban Forestry May Symposium
Join us for our second Connecting Canopies symposium this May!
About this event
DATE: Wednesday, 3/25
Time: 12-2pm
What is Connecting Canopies?
Connecting Canopies is a community-led urban forestry coalition with the goal of creating a regionally equitable urban tree canopy. Connecting Canopies is working towards this goal through several approaches: workforce development for BIPOC youths to create changes from within the community, advocacy for equitable policies related to urban forestry, and data-driven analysis.
¿Te encantan los árboles? ¿Te gustaría desempeñar un trabajo en el sector verde en el futuro? ¡Acompáñanos para el simposio de Connecting Canopies!
¿Qué es Connecting Canopies?
Connecting Canopies es una coalición comunitaria de silvicultura urbana que se enfoca en crear un dosel arbóreo urbano equitativo en nuestra región. La coalición pretende realizar este objetivo a través de varias estrategias, entre ellas: oportunidades de capacitación laboral para jóvenes afrodescendientes, indígenas y de color para que puedan hacer cambios a partir de la comunidad misma, la promoción de políticas que favorecen una silvicultura urbana más equitativa y el análisis de datos.
Interpretación al español estará disponible durante el evento
Hora: miércoles, 25 de mayo de 12 a 2pm