Description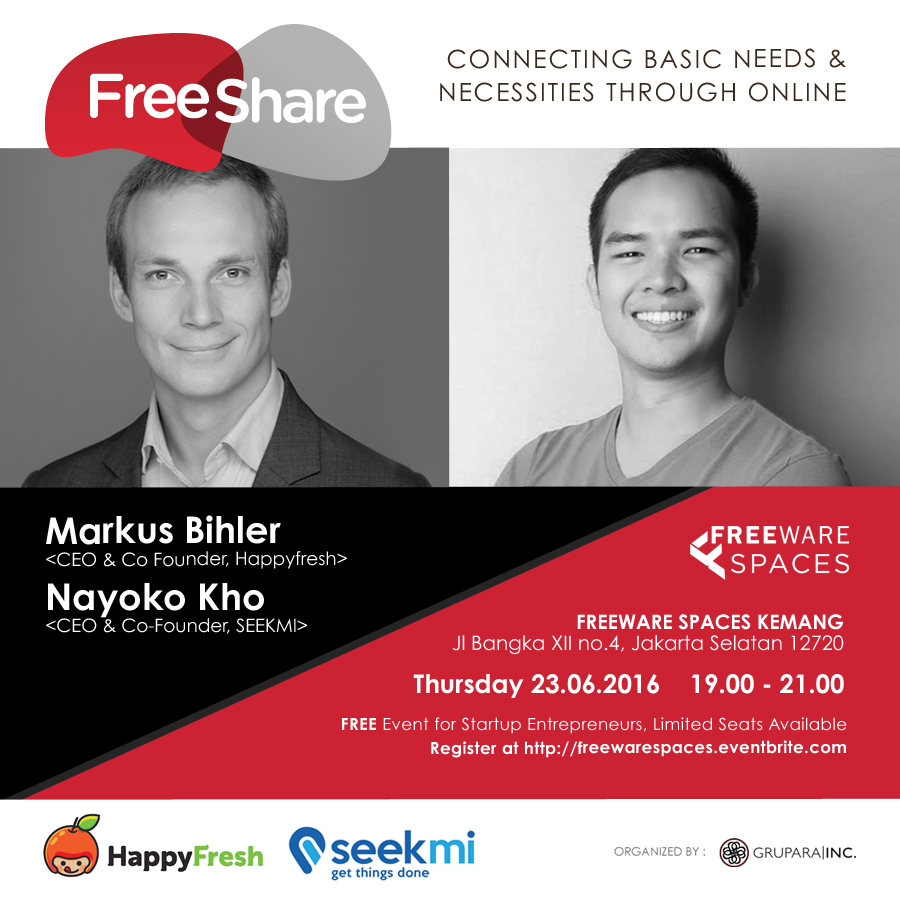 GRUPARA INC Present:
"Connecting Basic Needs & Necessities Through Online"
at Freeware Coworking Spaces Kemang
with
Markus Bihler (CEO & Co-Founder, HappyFresh)
&
Nayoko Kho (CEO & Co-Founder, Seekmi)
Date / Time : Thursday, June 23th, 2016 19.00 - 21.00
Location: FREEWARE SPACES KEMANG
Jl. Bangka XII no 4
Jakarta Selatan 12720
CP: info@freewarespaces.com
18.00 - 18.50 : Registration & Networking
19.00 - 20.30 : Sharing Session and panel discussion
20.30 - 21.00 : Networking & End of Event
TRY WORKING AT FREEWARE SPACES KEMANG FOR FREE ON THE DAY OF THE EVENT STARTING 08.00 AM EMAIL ICHA@FREEWARESPACES.COM FOR DETAILS
Who Is MARKUS BIHLER?
Markus Bihler is CEO & Co-Founder of HappyFresh Group, Southeast Asia's leading food-focused last mile logistics and on-demand delivery company. Headquartered in Indonesia, Markus led the company's regional expansion into Malaysia, Thailand, Taipei and the Philippines, as well as sourced and structured the group's USD12m Round A funding lead by Temasek, Sinar Mas, and 500Startups. Prior to relocating to Asia, he was CEO and Managing Director of Tirendo Holding in Berlin, Europe's second largest eCommerce company for tyres and automotive spare parts. He was responsible for the firm's USD50m trade sale and post-merger integration to Frankfurt-listed Delticom AG, creating the world's second largest online tyre retailer with over EUR500m annual revenue in 42 countries.
Until 2012, Markus was a private equity investment professional with USD29bn PE fund EQT Partners in Munich and Warsaw with responsibilities for portfolio companies HTL Strefa (med tech, Poland), Springer Science (tech, Germany) and BSN Medical (med tech, Germany). In 2007, Markus joined The Blackstone Group in London with responsibilities for portfolio companies Gloeckner Pentaplast (packaging, Germany) and Centre Parcs (hospitality, UK). His main areas of expertise include all aspects of deal sourcing, due diligence, financial structuring and corporate governance.
Markus holds a first-class degree in Economics and Management from the University of Oxford. He is a keen athlete, former cycling and triathlon amateur and a passionate mountaineer and currently lives in a suitcase around Southeast Asia.
Who is Nayoko Kho?

He started his career at Rocket Internet in Canada and then came back to Jakarta and joined one of the largest media group, EMTEK Group. He have built and supported companies such Zalora.com, Lakupon.com, Liputan6.com, Vidio.com, and Bintang.com.
Now Nayoko is the CEO & Co-founder of Seekmi, a service marketplace platform that connects local service providers with customers all around Indonesia. Seekmi raised investments from prominent investors such Justin Kan (Co-Founder of Twitch which was acquired by Amazon for almost $1 B, and also partner at Y Combinator), Mari Elka Pangestu (Former Indonesia's Minister of trade), EMTEK Group (SCTV), Cyber Agent Ventures (Japan), Convergence Ventures, Grupara Inc, and also other super angels and instituion investors.
TRY WORKING OUT OF FREEWARE SPACES KEMANG FOR FREE ON THE DAY OF THE EVENT STARTING 08.00 AM EMAIL ICHA@FREEWARESPACES.COM FOR DETAILS