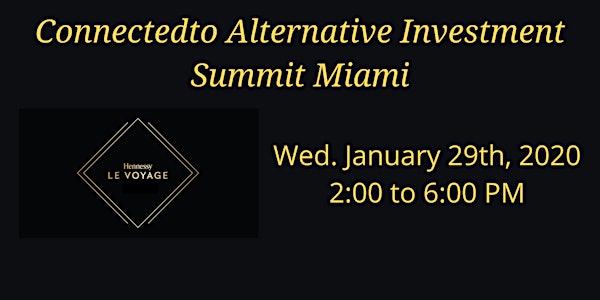 Connectedto Alternative Investment Summit
The Connectedto Alternative Investment Summit will have athletes, investors, start ups and influencers coming together for business.
When and where
Location
STITCHED 701 South Miami Avenue #177-C Miami, FL 33131
About this event
Connectedto Alternative Investment Summit
Brought to you by : Hennessy
The Connectedto Alternative Investment Summit will have athletes, investors, start ups and industry influencers coming together for business connectivity.
The summit will provide access, information and opportunities for vetted investment deals.
Sponsored By:
AlphaConnector.com : Hennessy : Rhodman Enterprises : Capital Advisory : Golden Knight Capital Management, LLC : Creative Glue: WAVE : Lila Polite : Karen Vaughan : Brandvertize : Global 1000 : Cookies & C.R.E.A.M, LLC : ARM Capital : David Cannady Campaign : Agility Launch : Yachtilife Miami : Off Market World :
The Schedule:
______________________________
Trending Investments : Panel Discussion: 2:15 pm to 3:15 pm
Francis Fytton : Steven Machat : Will Medina : Lila Polite : David Cannady
Listen to a frank discussion on what alternative investment options seem to be trending and producing results. (Cannabis, Hemp, Real Estate, Technology, Renewable Energy, Entertainment/Film and more.)
______________________________
The Athletes Panel : 3:20 pm to 4:05 pm
Kris Doura : Roy Barker : Daniel Wilcox
Athletes and ex-athletes discuss some of the successes and challenges they have had in investing. Learn what investments potentially interest them.
________________________________
The Investors Panel : 4:10 pm to 5:00 pm
Todd Bass : Kurt Cilen : Joe Damsker : Patrick Murphy : Dr. E Lance McCarthy
Learn what projects the investors are looking towards? They will share the pitfalls of entrepreneurs and why some don't get funding. Hear what types of projects get funded and what they look for in a deck.
_________________________________
Special Guest Speaker :
Steven Machat: 5:00 pm - 5:15 pm
Machat, one of America's most successful entertainment moguls and an acclaimed author of "Gods, Gangsters and Honor," has been involved with producing and/or marketing music and artists all over the world, and is legally trained as an attorney. Some of the artists he has worked with are ELO, Genesis, Peter Gabriel, Phil Collins, Leonard Cohen, Phil Spector, Snoop Dogg and Bobby Brown. Movies he is credited on include Anaconda, Street Fighter, and Judge Dredd. He has taught and lectured at universities such as Oxford and Cambridge, and music festivals and book fairs in over a 100 countries. He produced the first videography of his childhood hero, legendary New York Yankee, Mickey Mantle.
Machat delivers his sixth time to you as someone on a personal metaphysical journey. He has travelled the globe like few have, and his travels over the last forty-plus years have allowed him to research and experience the philosophies contained in this book.
"The Book Of Earth," subtitled, "A Rock Opera," on account of its references to music culture, arrives December 9th. In the book, Machat expunges the accepted concepts of religion and asks: Why are we slaves to the few? Who are they? Why do we acquiesce to this systematic humiliation? And for that matter: Who are we? Why are we here? How did we get here?
Machat says of his new offering: "the accepted 'truths' of the origins of cultures, religions and our very civilization are robustly challenged and debunked, by a man who has travelled the planet to unlock the truths." He is rumored to be in talks regarding a film adaptation.
______________________________
Pitch the Room : 5:15 pm to 6:00 pm
Moderated by Karen Vaughan
​Here from 6 vetted entrepreneurs and their companies as they pitch their businesses to the room for 5 minutes each.
__________________________________
For Sponsorship call 305.796.0935 or email alphaconnector@gmail.com