Connected Network - Delavnica za kriptovalute

Tuesday, April 24, 2018 from 4:00 PM to 8:00 PM (CEST)
Event Details
Connected Network - 
GOLDEN BOX
Prijavite se na praktično delavnico o vlaganju v kriptovalute in ne zamudite priložnosti tehnologije veriženja podatkovnih blokov.
VEČ INFORMACIJ O AKCIJSKI CENI IN DELAVNICI PROSIM KLIKNITE NA: 
GOLDEN BOX DELAVNICA
Vabimo vas na interaktivno druženje ter delavnico, ki bo vsaki 
torek
in
četrtek
marca in aprila na 
Šmartinski cesti 130 –poslovna stavba Emone.
Da bi začeli varno investirati, vas vabimo, da se pobliže spoznate z blockchain tehnologijo, ki bo povzročila velike spremembe v zasebnem in javnem sektorju. Predstavili vam bomo osnove blockchaina in njegovo uporabno vrednost in z primeri potem aplicirali znanje z vlaganjem v kriptovalute.
Z izbiro CN Golden box-a, ki ga organizira Connected Network, boste popolnoma pripravljeni, da se varno in uspešno spustite v svet kriptovalut.
Najprej vam bomo podrobneje predstavili tehnologijo veriženja podatkovnih blokov, nato pa bomo govorili tudi o investicijskem vidiku. Samo tako se boste zavedali, kam resnično vstopate in kako veliko priložnost imate, biti na začetku nove internetne revolucije. 
Ekipa Connected Network
ima številne izkušnje iz področja kriptovalut, ki so jih pripravljeni deliti z vami in vam tako olajšati pot k vstopu in razumevanju sveta kriptovalut. 
Vsi Dragi obiskovalci delavnice v kolikor se še niste prijavili tukaj na EVENTBRITE preko spletnega obrazca zaradi rezervacije vašega sedeža to storite čimprej.
Ko to storite vas bomo mi kontaktirali in poslali predračun. 
Na delavnico lahko pride največ 10 ljudi, zaradi boljšega fokusa in lažjega sodelovanja.
POGOJ ZA UDELEŽBO NA DELAVNICO JE PLAČILO VSAJ DAN PRED DOGODKOM.

Dokazilo o plačilu prosim pošljite na

info@connectednetwork.eu
Spremenite svetovno revolucijo v osebno priložnost!
Udeležite se delavnice ter se pripravite za varen vstop v svet kriptovalut.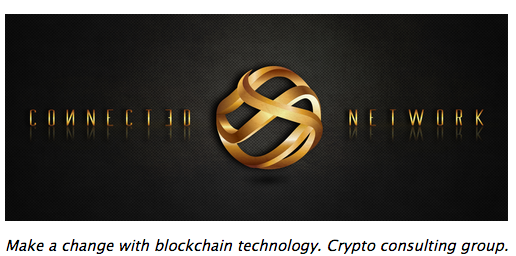 When & Where

Šmartinska cesta 130
130 Šmartinska cesta
1000 Ljubljana
Slovenia


Tuesday, April 24, 2018 from 4:00 PM to 8:00 PM (CEST)
Add to my calendar
Organizer
Connected network
podjetje kot strateško komunikacijsko podjetje ponuja podjetjem in posameznikom svetovanje in izobraževanje o tehnologiji blockchain, kriptovalutah in rudarjenju. Od množičnega marketinga, razvoja aplikacij, komunikacij, strategij, implementaciji ICO-jev in poslovnega svetovanja - lahko pomagamo na kateri koli stopnji rasti podjetja.
Naša
vizija
in
poslanstvo
je ozaveščanje ljudi in podjetja o prednostih blockchain tehnologije.
Verjamemo v to, da bo blockchain tehnologija spremenila sedanjo digitalno infrasturkturo in procese, tako kot se je s prihodom interneta popolnoma spremenila medosebna in poslovna komunikacija, zato blockchain tehnologijo vidimo kot naslednji velik korak v digitalnem in poslovnem svetu.