Connected Communities and Internet of Things (IoT): Building Value through Visibility

Thursday, October 30, 2014 from 9:00 AM to 5:00 PM (Malaysia Time Malaysia (Kuala Lumpur) Time)
Event Details
An event you cannot miss to learn from the experts, who will share the insights into technologies to enable Connected Communities and Internet-of-Things (IoT) applications and solutions as well as their successful case studies to help you to accelerate the adoption and leverage these platforms to implement Digital Lifestyle in Malaysia and this region.
This event is co-organised by MCMC, NCIA, PSDC and Iconix Consulting with the platinum sponsor is Braintree_Dev. (A PayPal Company) and silver sponsor is IBM. This event is also supported by industry partners from Intel, IBM, GS1 Malaysia, Bosch, CREST, OSRAM, Huawei, Beckhoff, TrafficSens, Xchanging, and many others. It is for audiences from various industries, including E&E, healthcare, transportation, manufacturing supply chain, consumer products, government agencies, and the academia.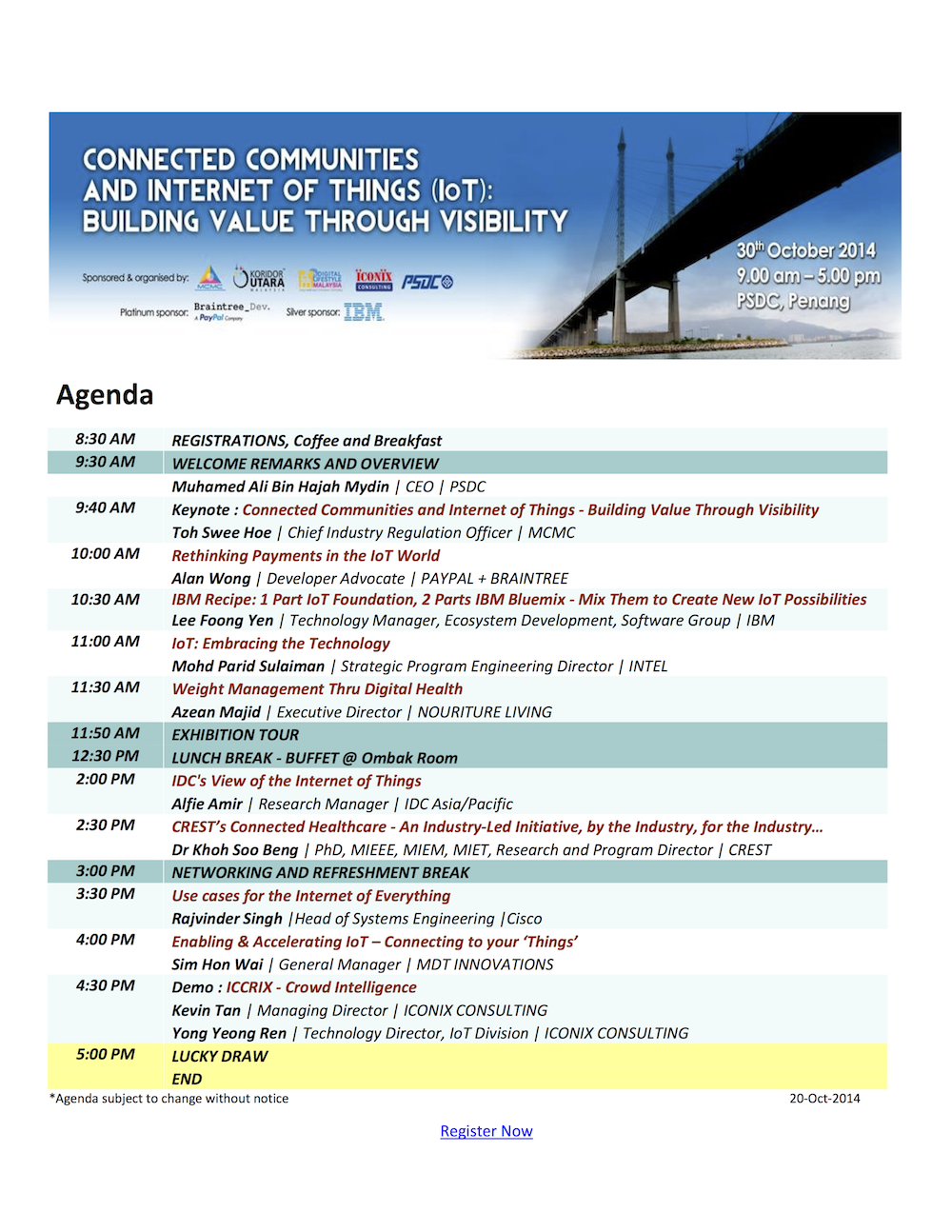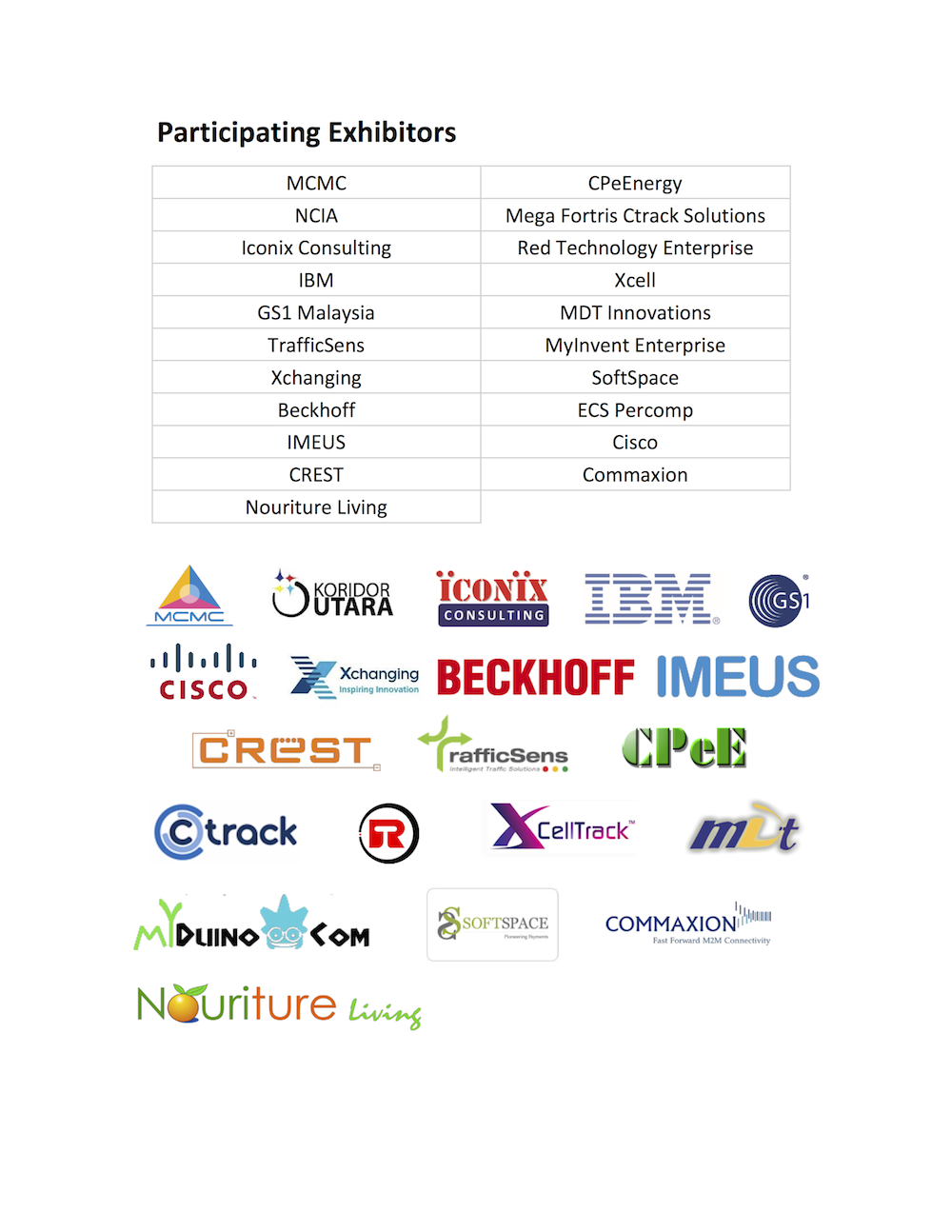 About MCMC
The Malaysian Communications and Multimedia Commission (MCMC) is a statutory body established under the Malaysian Communications and Multimedia Commission Act 1998 (MCMCA) which implements and promotes the Government's national policy objectives for the communications and multimedia sector. MCMC regulates and promotes the development of the communications and multimedia industry which includes telecommunications, broadcasting, and online activities, postal services and digital certification. The Communication and Multimedia Act provides that MCMC undertakes a policy implementation role, while policy decision-making is vested with the Minister. The Minister may also give policy directions to the Commission. For more news and information, contact: Tel: +603 8688 8000 Fax: +603 8688 1007, email: ccd@cmc.gov.my.
About PSDC
The PSDC (Penang Skills Development Centre) was established in 1989 and is the first tripartite, industry-led skills training and education centre in Malaysia. Since its inception, the PSDC has grown phenomenally to become the premier learning institution in the country, dedicated to meet the immediate human resource needs of the business community and to support and strengthen business requirements. It has attained both national and international recognition as a truly successful example of shared learning and a model institution for human resource development to be emulated within and beyond Malaysia.
About Iconix Consulting
Iconix Consulting Sdn. Bhd. was founded in 2011 as a social enterprise by a strategic alliance of various expertise and platform of human capital growth focusing on integrating innovation. We compliment the training providers and corporates' in-house trainings by addressing the gaps to achieve effective high-value training programs in Malaysia with a team of more than 30 subject matter experts with diverse background, experiences and locations, and more than half of them are PhD holders. In 2013, the alliance enables an IoT platform for developers with supporting middleware to enable crowd-sensing, measurement tools integration and indoor proximity system, coupled with open cloud-based platform and tools for big data analytics, to support end-to-end solution for value-added application creations for businesses and consumers. For more news and information, goto www.iconixconsulting.com
About Braintree_Dev (A PayPal Company)
The PayPal Developer program is the face of technology innovation at PayPal. Using open source foundations in their technology stacks, PayPal is constructing new breeds of payment platforms, API standards, and identity systems to support the next generation of disruptive technology. 
With a focus on developer centric API design practices, and integrated mobile experiences, PayPal Developer is empowering deeply integrated commerce initiatives, providing companies with the tools they need to create rich monetization experience within web, mobile, or wherever their creations might be.
When & Where

Penang Skills Development Centre (PSDC)
1, Jalan Sultan Azlan Shah,
Bandar Bayan Baru,
Bayan Lepas, Penang 11900
Malaysia

Thursday, October 30, 2014 from 9:00 AM to 5:00 PM (Malaysia Time Malaysia (Kuala Lumpur) Time)
Add to my calendar