Description
Finding the Flint. The Flint River starts in East Point, then flows 344 miles to the Florida state line where it joins the Chattahoochee to create the Apalachicola River. As one of the longest free-flowing rivers in the nation, the Flint provides water for farms and families across the state and is home to several threatened and endangered species. The Flint is the "F" in the ACF River Basin, which is the subject of decades of litigation in the "water wars." The health of the Flint touches the entire region.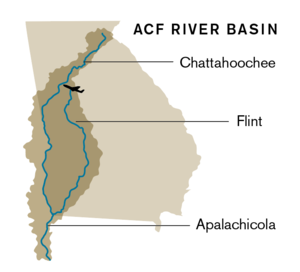 Before Hartsfield-Jackson Atlanta International Airport, the Flint River was a key resource shaping the development of Atlanta's southside. As the airport grew, the Flint River disappeared from the map. Most metro-Atlanta residents are surprised to learn that the Flint River, Georgia's second longest river, begins near the airport. It's easy to miss it—the headwaters are either completely hidden in culverts or they are unmarked and off-limits in the airport area.
The Flint River is the most important river Atlanta's never heard of. And if we're going to save the river for future Georgians, we have to start here, at the urban headwaters.
What if we integrated the Flint into the Aerotropolis vision?
What if this area was defined not only by the airport but also by its natural assets?
The goal is to create new experiences at the water's edge, reveal these hidden headwaters, and to connect communities as we restore the river. The headwaters can provide the centerpiece for public spaces and connected trails. Meanwhile, green infrastructure can address flooding while protecting Atlanta's most valuable infrastructure investment, Hartsfield-Jackson Atlanta International Airport.
With these initial concepts, we started a conversation with local stakeholders about what's possible in several key areas...
Guest Speaker: Hannah Palmer (Finding the Flint)
How can I get involved?
Sign up for our newsletter and/or follow us on Facebook to hear about community tours, river cleanups, design workshops, and opportunities to get your boots muddy. Donate at AmericanRivers.org/donate or ConservationFund.org/donate and note your support of "Finding the Flint." Help spread the word to your friends, colleagues, and elected officials. Share your ideas and explorations with #findingtheflint.