Description
The University of Arizona (UA), in partnership with COX Communications, presents
Connect2STEM 2016
a family-friendly event celebrating Science, Technology, Engineering, Math – and Medicine.
STEM enthusiasts have the opportunity to interact with 100+ tables of hands-on
science activities. In 2015, the event drew more than 2,000 children and families.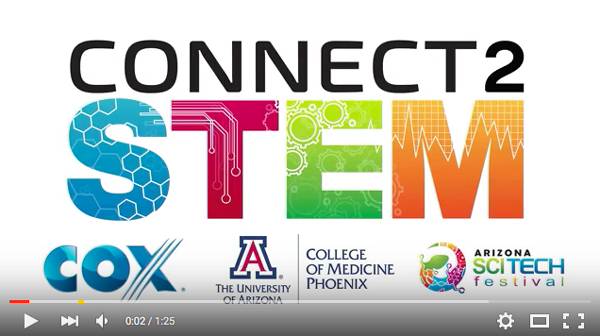 The UA's second annual Connect2STEM event is free will take place from 10 a.m. – 3 p.m. on Saturday, January 9, 2016 at the UA College of Medicine – Phoenix located in downtown Phoenix at 550 E. Van Buren Street, Phoenix (located just north of Van Buren between 5th St. and 7th St.).
Connect2STEM is an official signature event for the 2016 Arizona SciTech Festival, a state-wide celebration of STEM held annually.

All registred guests will automatically entered to win IPAD Pro.

The event takes place just blocks away from the 2016 College Football Playoff National Championship football festivities including: Playoff Fan Central and AT&T Playoff Playlist Live!

The event is free. Registration is encouraged - not required for entry.

The first 1,000 registered participants will receive a STEM bag with free give-aways.

Once registered for the event, bring the provided ticket to the Welcome Desk to obtain the STEM give-away bag.

Bringing a large group of 12 or more? Email

Dan Blumenthal

for bulk registration information.
Directions
Directions to the can be

found here

. UA College of Medicine – Phoenix located in downtown Phoenix at 550 E. Van Buren Street, Phoenix (located just north of Van Buren Street between 5th St. and 7th St.).
Discounted Parking

Thanks to our sponsors at The Boyer Company - discounted parking is available for $5 at the Phoenix Biomedical Campus Garage with event registration. Print your registration ticket (emailed to you automatically) and show to the garage attendant. The garage is located at the northeast corner of 5th Street and Fillmore (entrances are on the south side of Fillmore and the east side of 5th Street). Click here for Campus Map.
Light Rail
Valley Metro has added additional trains to the existing light rail route. Avoid the traffic and take the light rail. The closest light rail stop is located walking distance from campus at Van Buren and 1st Avenue. More details.
Be a STEM Superhero
Connect2STEM will feature five hands-on activity zones including:
Bioscience Zone:

Touch, feel and discover the human body like never before. See the biomechanics of a life-sized mannequin that can talk, breathe, bleed and sweat. Visit the Concussion Discussion: Tackle the Brain Challenge Expo - featuring a vision distorter, eye-hand coordination drills and more. Take your photo in the Operating Room photo booth.

Touch a real cow and pig heart and learn how to stich and suture.

Outer Space/Technology Zone:

Calling all amateur astronomers! Learn about OSRIS-Rex, a real mission designed to bring pieces of the "Bennu" asteroid back to earth.

Climb aboard the Physics Bus.

Cox Gig Zone:

Enjoy gaming stations, coloring contests and giveaways. Learn about the science of GIGABLAST services getting to your home. Be on the lookout for a special appearance by Digeez, the COX mascot.

Nature Zone:

Get down and dirty with master gardeners and meet your favorite crawly insects!

Snuggle with the

Animal-Assisted Crisis Response Therapy Dogs.

Wildcat Spirit Zone:

Bear Down! Meet Wilbur and Wilma Wildcat, mingle with fellow alumni, shop at the UA bookstore and p

articipate in soccer drills with UA Athletics.

NEW Activity - Connect2CAREERS:

Meet an engineer from Intel, a heart surgeon, scientists and more. Find out what they do and what it took to get there.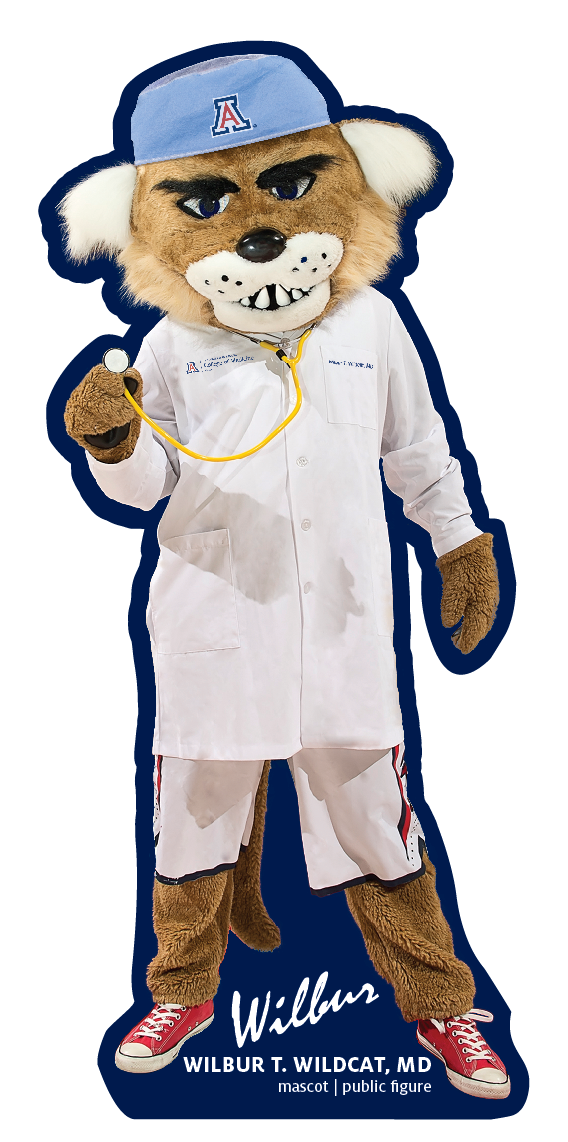 Organizer of Connect2STEM Attendee Registration