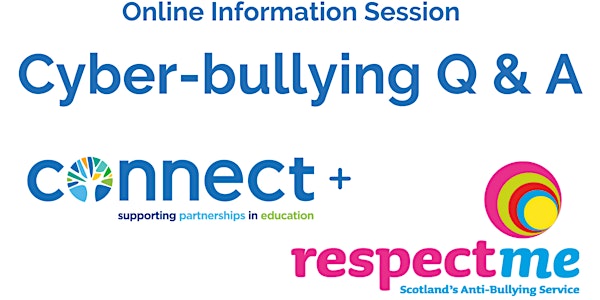 Connect + respectme's Cyber Bullying online surgery/Q&A 12 May 2020
Description
Connect + respectme
Our children and young people are spending more time online in the current situation. We'd like to invite parents and parent groups to discuss cyber bullying.
Connect is hosting two online sessions with respectMe, Scotland's anti-bullying service on Tuesday 12 May. Places are free, booking is essential. You can choose from 2 sessions, 2-3pm and 8-9pm
The session with respectMe will cover
how and where cyber bullying happens,

the impact it has on young people's lives,

ways of supporting a child or young person who is being bullied online

online resources and tools available to address online bullying
The online surgery is about hearing your stories, please share what you feel comfortable with about your own situation. There are different ways of taking part if you want to remain anonymous, these include
Sending in stories/comments/queries in advance and listening in to the discussion

Taking part in the live Q and A without sharing your video camera.

Changing your name to your first name on your Zoom window.
Remember not to share individual's names or any detail that might identify them when sharing your story
We will send a link to join the online session.