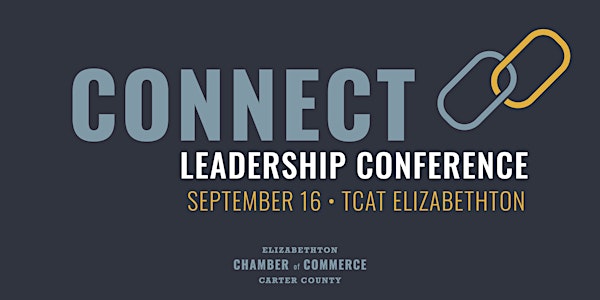 Connect Leadership Conference
Connecting leaders to the community and sharing resources to further your organization's mission.
When and where
Location
Tennessee College of Applied Technology (TCAT - Elizabethton Campus) 426 TN-91 Elizabethton, TN 37643
About this event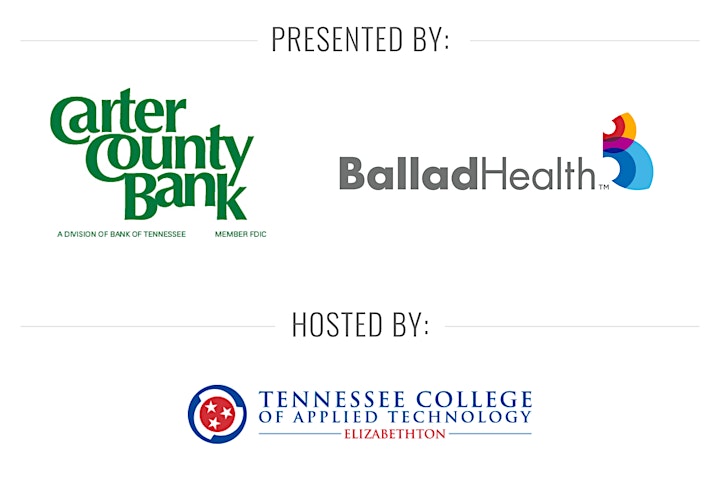 Connect Leadership Conference
Brought to you by the Elizabethton/Carter County Chamber of Commerce Presented by Carter County Bank and Ballad Health. Hosted by TCAT Elizabethton.
A conference designed to highlight and enrich guests on a variety of topics such as; dealing with difficult people, crisis communication, small business entrepreneurship, and nonprofit business management.
Keynote Speaker
Our keynote speaker will be Randy Boyd, Owner of Boyd Sports and President of University of Tennessee
Workshops
Dealing with Difficult people: Senior VP of Human Resources from Bank of Tennessee, Katie Kennedy
A lawyer, a banker and a CPA all walk into a Small Business: Panel Discussion for Small Business. Brandon Casey from Casey Law offering information about LLC's vs Sole Proprietorship. John Wagner, Senior Vice President of Carter County bank offering information on being prepared before you meet with your lender to buy a building or open a line of credit for business owners. Sarah Presnell, Partner at Blackburn Childress and Stegall offering information about regulations regarding taxes in TN.
Leadership in a Team: Vice President of Enrollment Management for Milligan University-Lauren Gullett
The Dream is Free. Entrepreneurship the highs and the lows (and everything in between). Founder/Owner of Fanatics 101, author of "The Dream is Free" Keddrain Bowen
Sponsor your cake and eat it too: Helping nonprofits host events and raise support while doing it. Public Relations and Event Manager for Bank of Tennessee-Jennifer Greenwell and Executive Director for the Elizabethton Chamber of Commerce-Joy McCray
Complicated Communications. Being prepared for the worst and hoping for the best- Owner/Founder of Corporate Image AND State Senator, Jon Lundberg
Event Location
This event will be held at TCAT Elizabethton's Main Campus, located at 426 Highway 91 North, Elizabethton, TN 37643
Sponsorship Tables
Sponsorship tables are available for your group. Select "Sponsor Seating" when choosing your ticket type, then add the number of guests you would like.